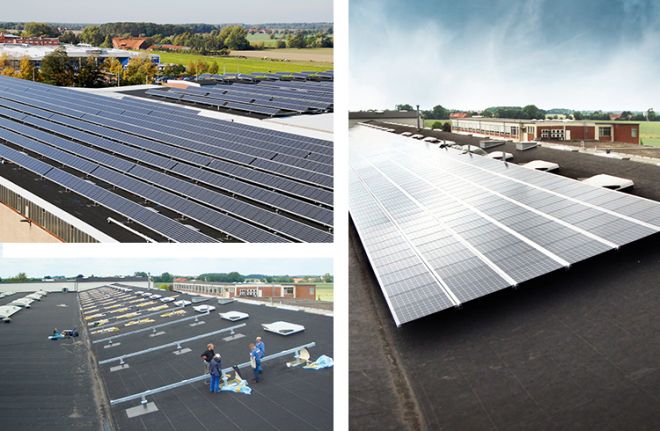 Nosta Logistics Stadthagen solar roof
Germany's largest roof-mounted system equipped with Kyocera high-performance solar cells achieves a rated output of around one megawatt. Skilled workers from Ahrens Solartechnik GmbH & Co KG erected the photovoltaic system on the roof area of Nosta Logistics in Stadthagen, Lower Saxony, measuring approximately 25,000 square metres. Since October 2009, the modules have been exposed to the sun and wind and produce environmentally friendly electricity. The weather-resistant Triflex ProDetail ensures that the penetrated roof skin in the connection areas of the 600 steel columns supporting the modules is waterproofed securely in the long term. The resistant resin forms an underflow-proof seal on the supports, which protects against penetration from harmful moisture in the long term.
Refurbishment requirements
Load-bearing capacity despite the extreme weight of the 600 steel columns
Weather-resistant and safe from water penetration
Sealing of roof penetrations
Quick and durable refurbishment
Flexible, even with strong movement
Refurbishment steps overview
Substrate pre-treatment: cutting open the plastic roofing membranes and removing the insulation
Fixing the supports to the substrate
Adaptation of insulation and plastic sheeting
Masking the interfaces with stone adhesive tape
Cleaning the steel columns with

Triflex Cleaner

and subsequent sanding
Fleece-reinforced detail waterproofing with

Triflex ProDetail
THE PLANT IS GERMANY'S LARGEST ROOF-MOUNTED PLANT WITH KYOCERA MODULES AND DELIVERS 920,000 KILOWATTS OF ELECTRICITY PER YEAR. THE QUANTITY PRODUCED, WHICH IS CONSUMED CENTRALLY ON SITE,
IS SUFFICIENT TO SUPPLY 260 SINGLE-FAMILY HOMES AND REDUCE ANNUAL CO² EMISSIONS BY AROUND 700 TONNES.
Dieter Ahrens, Managing Director of Ahrens Solartechnik