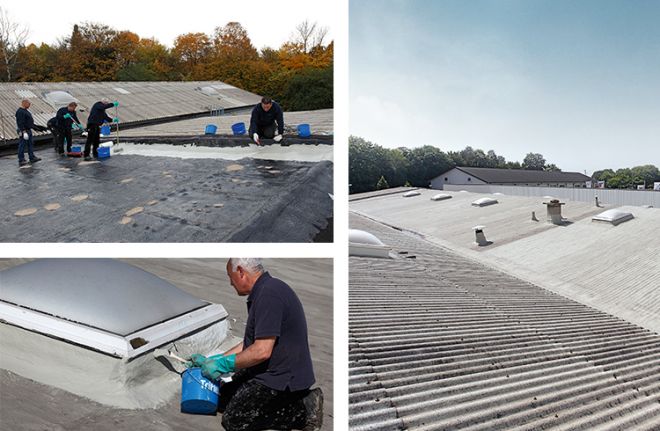 Flat roof of a technical wholesale company Duisburg
The flat roof of a technical wholesaler in the Duisburg Hochfeld industrial estate extends over an area of 1,300 square metres. Strong solar radiation and other weather influences have strongly affected the polyurethane (PU)-insulated roof surfaces. Bubbles have formed on the surface, causing massive long-term moisture damage. Both warehouse and exhibition rooms of the wholesale trade were already affected – high time for a refurbishment offering long-term safe protection. Bedachungen Roy Charnow, the company commissioned to carry out the refurbishment, decided on the Triflex ProDetailwaterproofing system. The Triflex liquid applied waterproofing system was also the ideal solution for the large areas of the Duisburg company's flat roof with various substrates. The branch of a technical wholesaler is located in the Duisburg Hochfeld industrial estate, close to the banks of the Rhine. Very good transport connections and numerous parking spaces in front of the building make the exhibition rooms a popular venue for industrial customers. The storage rooms offer space for items from the entire range of building technology.
Refurbishment requirements
Permanently securing the waterproofing of the roof surface as well as numerous details
High thermal load capacity of the surface
Low weight per unit area of the waterproofing material
Application of the system on inclined and vertical surfaces
Application in the wet and cold season
Refurbishment steps overview
Clean the surface using

Triflex Cleaner

Priming the surface using

Triflex Cryl Primer 222

Applying the fleece-reinforced

Triflex ProDetail

on gutters, skylights and vertical surfaces
WE WERE LOOKING FOR A SOLUTION THAT WOULD ADHERE TO ALL EXISTING SUBSTRATES AND SET QUICKLY EVEN UNDER DIFFICULT CONDITIONS – WITHOUT PUTTING TOO MUCH STRAIN ON THE SENSITIVE ROOF SURFACE. WE WANTED TO BE ON THE SAFE SIDE, PARTICULARLY IN VIEW OF THE SIZE OF THE PROPERTY THE GOOD COOPERATION WITH THE TRIFLEX EMPLOYEES AND THE PRACTICAL TRAINING MEASURES ON SITE CONVINCED US THAT TRIFLEX PRODETAIL IS THE BEST POSSIBLE SYSTEM.
Leading contractor Roy Charnow, Bedachungen Roy Charnow, Duisburg