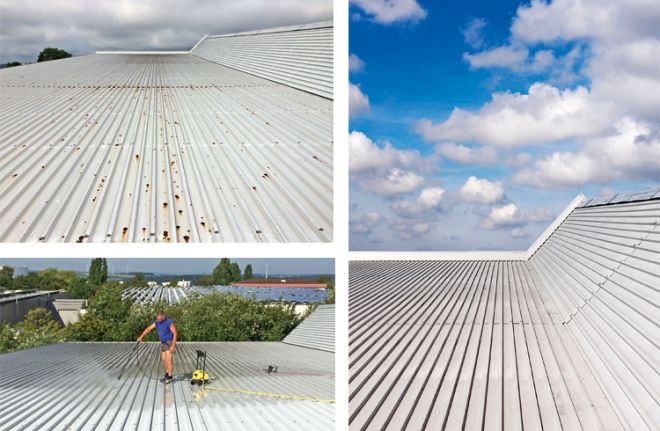 Metal roof on an industrial warehouse.
Weather influences had strongly affected the metal roof of an industrial warehouse at Hepco & Becker GmbH in Pirmasens: hail damage was apparent on the trapezoidal sheet metal, the existing coating was coming off in some places and the metal was badly rusted. In order to avoid any more damage, the original function of the roof profiles needed to be restored as quickly as possible while the coating should be sustainably improved at the same time. As the contracting company, Gebrüder Folz GmbH, Pirmasens had already been experiencing excellent Triflex systems for five years, they too decided on the liquid applied waterproofing specialists' products for this project. The contractors used Triflex Metal Primer and Triflex Metal Coat to produce a new surface protection to extend the service life of the metal roof.
Refurbishment requirements
Quick installation
Refurbishment without complete demolition
Application in adverse weather conditions
Adhesion to existing metal substrate
Long-term waterproofing and protection against corrosion
Attractive appearance in grey-white
Refurbishment steps overview
High-pressure substrate cleaning
Priming of the surfaces using

Triflex Metal Primer

applied as a spray
Waterproofing of the details and joints with

Triflex ProDetail

Final coating of all surfaces with

Triflex Metal Coat

, also applied as a spray
THE PROPERTIES OF TRIFLEX LIQUID APPLIED WATERPROOFING ENSURE PERMANENT RESISTANCE TO WEATHERING AND CORROSION.
Gebrüder Folz GmbH