Triflex ParkLine is used as a thin-layer marking for outdoor parking and set-down areas.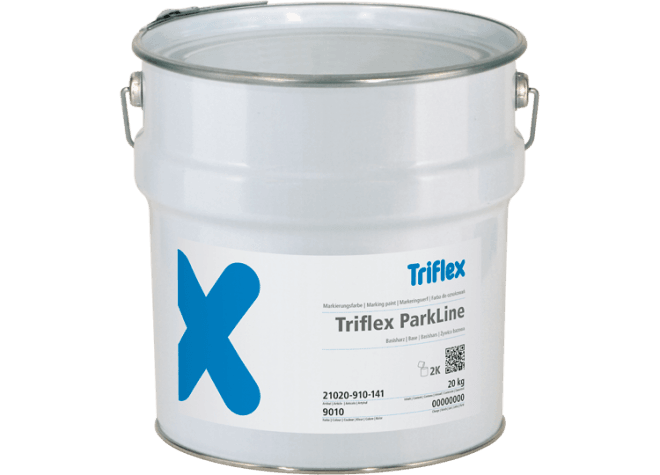 Triflex ParkLine is used for marking outdoor parking and set-down areas. The low-solvent, 2-component high-solid paint, which has an epoxy resin base, can be used on asphalt and concrete surfaces. The sprayable Triflex ParkLine offers excellent adhesion, even on substrates with residual moisture. Thanks to the short drying times, the closure times are also very brief.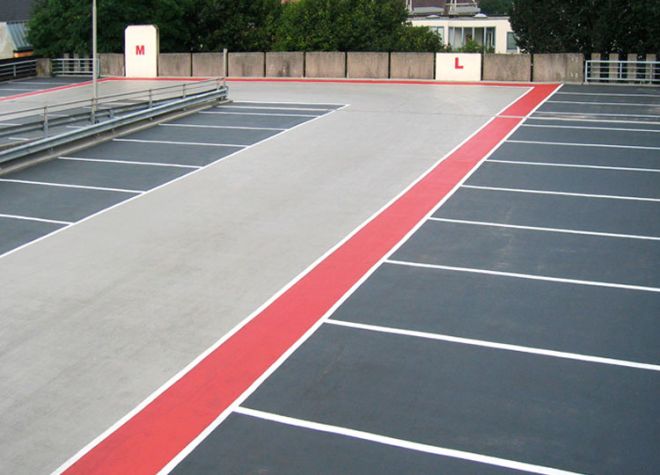 Triflex Than Primer L 1K – for sealing the concrete substrate and ensuring substrate adhesion
Triflex ParkLine – continuous line marking in layer thicknesses of 0.3 to 0.6 mm
Triflex ParkLine, density approx. 1.55 g/cm³.
Required volume approx. 0.93 kg/m² with a layer thickness of 0.6 mm.
Determination of the dry layer thickness:
| | | | |
| --- | --- | --- | --- |
| Thickness of wet film | 300 μm | 400 μm | 600 μm |
| Dry layer thickness | 160 μm | 215 μm | 320 μm |
Calculation formula: line width (m) x line length (m) x volume (kg/m²) = volume required for area (kg)
1023 Traffic yellow
9010 White