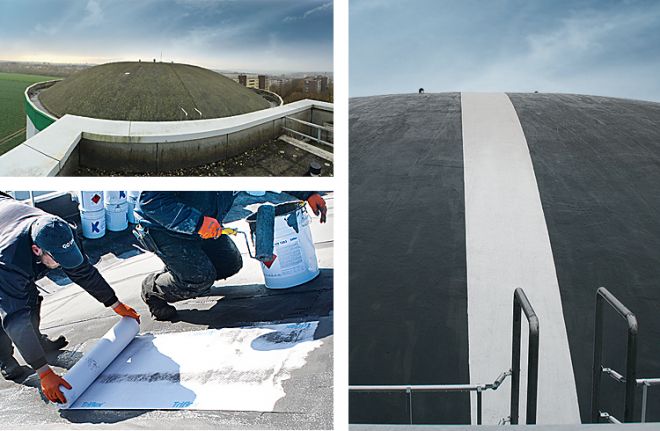 Water tower dome roofs at GELSENWASSER AG Essen
The two water towers of GELSENWASSER AG in Essen needed a consistent surface that reliably protects against moisture penetration and at the same time requires little maintenance. A durable waterproofing that would not alter the striking dome shape of the flat roofs was needed. The various trades and parties involved in the construction rose to the challenge together: the team of the Oberhausen-based W. Kuhlkamp GmbH as contractor, the construction element specialist dani alu GmbH from Hösbach, the German FOAMGLAS® GmbH, Hilden, and the Minden-based liquid applied waterproofing specialist Triflex all pulled together on this project. The result is a precisely fitting waterproofing that permanently protects the dome roofs of the water towers from penetrating moisture and also visually rounds off the appearance of the buildings.
Refurbishment requirements
Functional waterproofing with uniform surface appearance
Rapid refurbishment
Adhesion to existing material mix of polyester fleece, concrete and sheet metal
Application irrespective of weather conditions
Integration of all details such as securants and vertical surfaces into the seal
Easy-care system for minimising maintenance costs
Refurbishment steps overview
Mounting a railing as additional protection against falling from the parapet
Removing the damaged bitumen waterproofing and applying a new bitumen welding membrane as emergency waterproofing.
Applying thermal insulation and hot bitumen with subsequent elastomer bitumen welding membrane with polyester fibre fleece insert.
Sealing all floor drains, securants and vertical surfaces with

Triflex ProDetail

Producing non-slip maintenance paths in white with

Triflex Cryl M 264
WORK COULD NOT BE CARRIED OUT ON SOME DAYS DUE TO PROBLEMATIC WIND CONDITIONS. NEVERTHELESS, THANKS TO TRIFLEX PRODETAIL IN LARGE CONTAINERS, THE PROJECT WAS STILL COMPLETED QUICKLY.
Master roofer W. Kuhlkamp