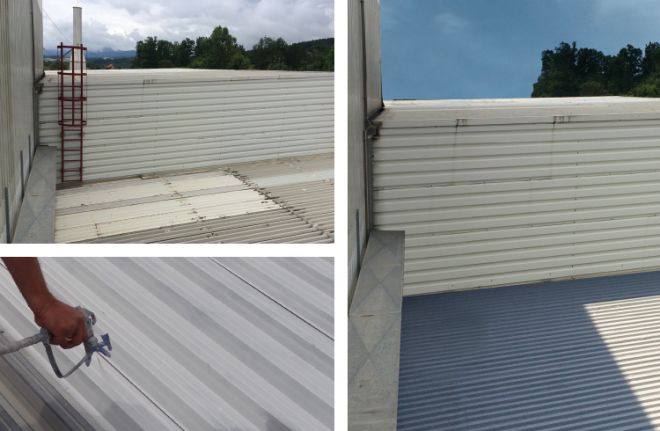 Metal roof of a production building owned by TIAG Althofen (AT)
Everything together. The metal roof of a production building owned by Treibacher Industrie AG (TIAG) in Althofen leaked in several places and was no longer functional. In order to prevent severe damage, the aim was to quickly refurbish the roof without completely removing the old covering. On the one hand, it was necessary not to interrupt production, as this would have incurred huge financial losses for TIAG. On the other hand, it was important that the waterproofing could be applied even
in adverse weather conditions due to the rainy summer. Following consultation with Norbert Hörner, our Area Sales Manager for Styria/Carinthia, TIAG decided on a solution using Triflex ProDetail.
Refurbishment requirements
Quick installation
Refurbishment without complete demolition
Application in adverse weather conditions
Adhesion to existing metal substrate
Long-term waterproofing and protection against corrosion
Refurbishment steps overview
High-pressure water blasting of the substrate
Priming of the surfaces using

Triflex Metal Primer

applied as a spray
Waterproofing of the details and joints with

Triflex ProDetail

Final coating of all surfaces with

Triflex Metal Coat

, also applied as a spray
WE VALUE THE SAFETY IN APPLICATION, THE PROMPT DELIVERY SERVICE AND THE ON-SITE SUPPORT.
Christian Politschar, PCB Beschichtungstechnik