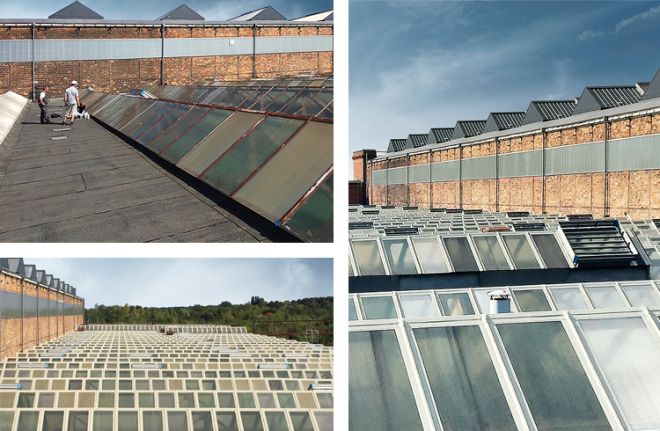 Sawtooth roofs of an industrial warehouse in Braunschweig
The railway technology provider Alstom planned to use a new warehouse at its location in Braunschweig. They had to have the best possible working conditions there, so the client had the old sawtooth roofs of the building refurbished. The leaky
glass covers were letting in moisture and needed repairing. A high-quality solution with a ten-year guarantee was required to ensure that the roof would remain watertight in the long term. This requirement was met by the sun-TEC Group, Bad Salzdetfurth, together with liquid applied waterproofing manufacturer Triflex. Combining various products for glass and metal created a total of 4,000 metres of permanent waterproofing.
Refurbishment requirements
Rapid repair of a large number of window frames
Long material life
Adhesion to various substrates such as glass, metal and masonry
Integration of numerous connections and details
Waterproofing with a ten-year guarantee
Refurbishment steps overview
Cleaning of the substrate
Priming the areas marked with adhesive tape on the panes with

Triflex Glass Primer

Priming the metal strips with

Triflex Metal Primer

Priming the wall connections with

Triflex Cryl Primer 276

Waterproofing with

Triflex ProDetail
WE TOOK PART IN THE TRIFLEX PRACTICAL SEMINARS IN THE RUN-UP TO THE WORK TO
ACQUIRE THE PROCESSING EXPERTISE OF TRIFLEX SYSTEMS. WE WERE EVEN SUPPORTED BY AWT RICARDO JACOBS IN THE PLANNING AND EXECUTION PHASES, MEANING THIS REFURBISHMENT COULD BE CARRIED OUT QUICKLY, SAFELY AND WITH A LONG SERVICE LIFE.
Erwin Genath, Managing Director of the sun-TEC Group