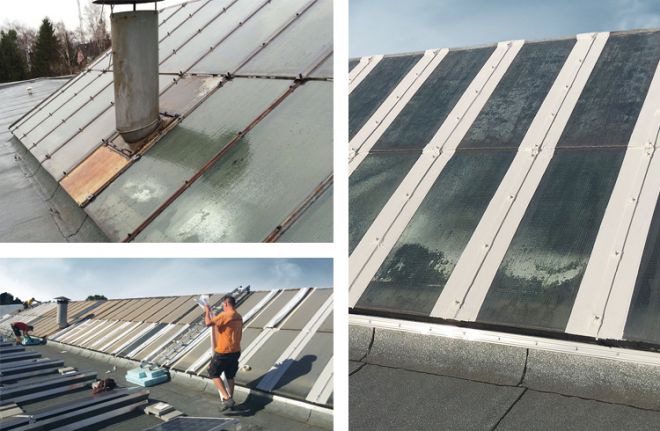 Sawtooth roofs of a car dealership
Glass panes in sawtooth roofs allow natural light to shine evenly into industrial warehouses. But if the structure is leaky and moisture penetrates the building, the roofs lose their functionality and limit the work below. This was the problem with two workshop roofs of a Berlin car dealership. The employees of DACHLAND Berlin GmbH called on liquid applied waterproofing from Triflex to waterproof the defective glazing securely. Together with sales employee and master roofer Joachim Meurer from Triflex, they agreed on a solution consisting of glass primer, special fleece and polymethyl methacrylate-based (PMMA) detail waterproofing. The individual components were quickly applied and are now providing lasting protection against further damage from moisture.
Refurbishment requirements
Very good adhesion to glass and inclined surfaces
Integration of numerous connections and details
Fast application, short closure periods
Long material life
Refurbishment steps overview
Removal of loose parts of the glass construction
Identification of the areas to be waterproofed with adhesive tape
Cleaning of the substrate
Priming the areas marked with adhesive tape on the panes with

Triflex Glass Primer

Application of special fleece SK and fixing with adhesive tape
Waterproofing with

Triflex ProDetail

in light grey
Waterproofing with fibre-reinforced

Triflex ProFibre

to waterproof the smallest details (e.g. screw heads)
Removing the adhesive tapes used for marking
THE WELL-TUNED INTERACTION BETWEEN THE PROJECT PARTICIPANTS ON SITE AND THE USE OF PRODUCTS THAT HAVE BEEN TRIED AND TESTED IN PRACTICE FOR MANY YEARS COMBINED TO RESULT IN A PERMANENTLY RELIABLE WATERPROOF SEAL.
Jens Paschke, DACHLAND Berlin GmbH