The challenges of fire protection in private and public buildings/facilities
Flame-retardant, backflow-proof waterproofing of even the most complicated joints and details, compliance with EU Building Products Ordinance, Model Building Regulations (MBO) and State Building Regulations (LBO, BauO and BO), strong resistance to mechanical and chemical influences.
The Triflex claim
Solutions for long-lasting protection in compliance with legal fire protection regulations, solutions for a flexible floor covering for easy absorption of building movements, solutions for fire protection and functionality with a decorative appearance. Solved together.
High-rise building at the Ratingen ring kiln
Fire protection and fall protection
Project: Balcony refurbishment, high-rise building at the Ratingen ring kiln
Solution: Triflex ProFloor S1
Planner: Architekturbüro Anke Indra architect's office, Heiligenhaus
Application: SBS Special-Bautenschutz-Service GmbH, Mülheim an der Ruhr
Area: Approx. 700 m²
Substrate: Polymer Cement Concrete (PCC) screed
Completion: 2011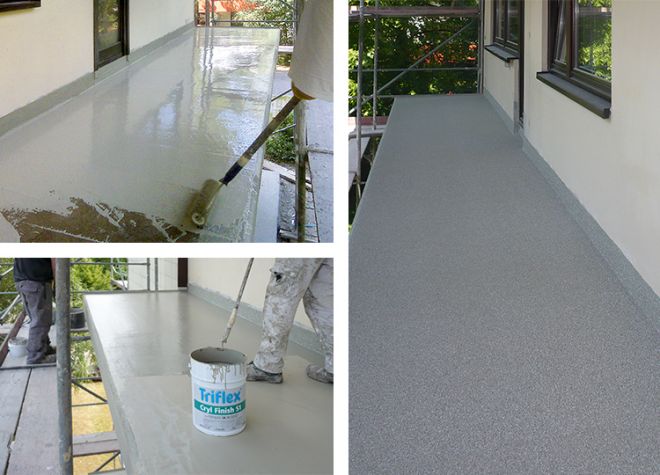 Apartment house Pillauer Weg, Kaarst
Against fire and humidity
Project: Walkways MFH Pillauer Weg, Kaarst
Solution: Triflex BTS-P S1 with micro chips dressing
Client: Building owner association
Application: Franz-J. Schmitz Bauwerkserhaltung GmbH, Bottrop
Area: 200 m²
Substrate: Screed
Completion: 2012