The challenges of renewable energies
Compliance with legal regulations for waste water and environmental protection, sustainable waterproofing, economical refurbishment, resistance to extraordinary influences.
The Triflex claim    
Solutions for a reliable structural protection, solutions for different areas of application and substrates. Mechanically and chemically highly resilient solutions as well as those against UV and weather influences. Solved together.
Tower and foundation waterproofing with Triflex Towersafe
Triflex Towersafe is a waterproofing system specially developed for wind turbines. Their exposed location and their design mean that they are subject to exceptionally high loads. Since the wind's energy partly acts on the tower and foundation, cracks often arise in the foundation, and moisture penetrates the structure through these cracks. Triflex Towersafe provides a solution here and is also an ideal choice for rotor blades, gondolas and transformer buildings. WTG operators have a technical quality solution of the highest standard in Triflex Towersafe .
More
Photovoltaic roof of the municipal utilities (Stadtwerke) in Bamberg
Increased efficiency for photovoltaics
Project: Photovoltaic system on the roof of Stadtwerke Bamberg
Solution: Triflex ProTect/Triflex ProDetail
Investor: Municipal utilities (Stadtwerke) in Bamberg
Planner: Architekturbüro Jungkunst & Partner architect's office, Bamberg
Application: Jüttner & Straub GmbH Bauwerksabdichtungen, Bamberg
Photovoltaic system: EBITSCHenergietechnik GmbH, Zapfendorf
Area: 2,000 m²
Substrate: Bituminous pressed gravel roof
Completion: October 2009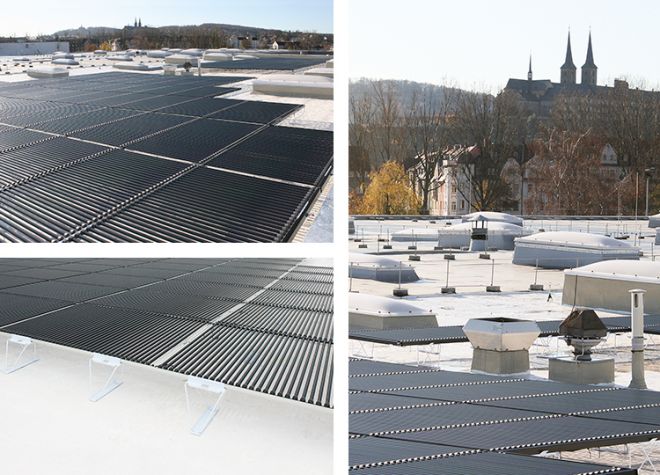 Nosta Logistics, Stadthagen solar roof
Connections for high-performance solar cells
Project: Solar system on the roof of Nosta Logistics, Stadthagen
Solution: Triflex ProDetail
Application: Ahrens Solartechnik GmbH & Co. KG, Bückeburg
Area: 25,000 m²
Substrate: Concrete, prestressed concrete, trapezoidal sheet metal with thermal insulation and waterproofing
Completion: October 2009