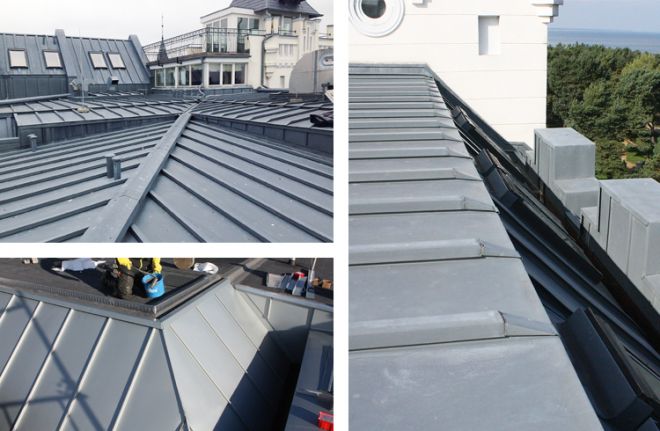 Palace Hotel Usedom mansard roof
The stately magnificence of the Palace Hotel Usedom is hard to miss. The listed property's interior, though, was not looking quite as stately in some places: damaged roof waterproofing and inadequate ventilation of the substructure had led to moisture penetrating the wood. The result was massive water damage in some hotel rooms. The steep roof surface needed to be repaired with a new waterproofing system that integrated the surrounding trench gutter in particular.
The original optical look with the titanium zinc standing seam covering needed to be preserved whilst taking into account the preservation of historical buildings. The expert Christian Schleeh, the contractor karlsson Dachdeckerei Alexander Zwielich GmbH (both Berlin) and the Anklam Untere Denkmalschutzbehörde (monument protection authority) decided on a solution together using the liquid applied plastic waterproofing system Triflex ProDetail.
Refurbishment requirements
Permanent protection against moisture (during accumulation of snow or rainwater)
Adhesion to various substrates such as wood, metal, plastic and bitumen
Integration of the surrounding trench gutter and a range of complicated geometries
Retaining historical character
Application of the material on the 60° steep mansard surface
Refurbishment steps overview
Demolition of the existing standing seam covering and application of new wooden formwork
Priming the new bituminous pre-covering with

Triflex Cryl Primer 222

Fleece-reinforced waterproofing with

Triflex ProDetail

: first the difficult connections, then the vertical mansard surface.
Creating the substructure
Mounting the titanium zinc standing seam cover
WE WORKED OUT AND SOLVED THE INCREASED REQUIREMENTS TOGETHER WITH THE EXPERT, THE MONUMENT AUTHORITY AND TRIFLEX: THE RESULT IS EXCELLENT!
karlsson Dachdeckerei Alexander Zwielich GmbH