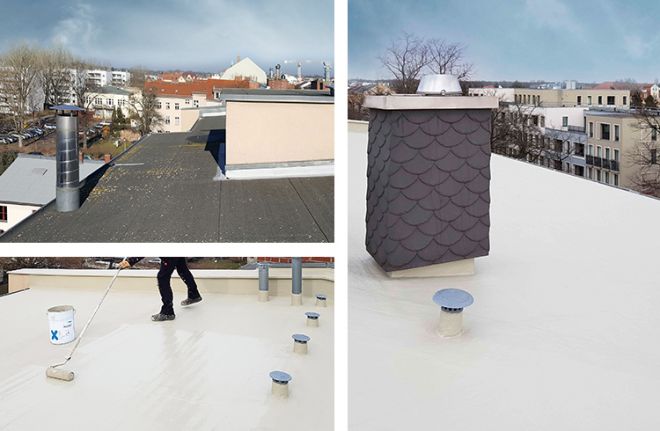 Bölschestraße residential and commercial building flat roof
The bitumen roof waterproofing of a residential and commercial building on Bölschestraße in Berlin was showing cracks and brittleness so it urgently needed to be repaired. The real estate owner, HCP Invest GmbH & Co KG, was particularly interested in finding an economical solution. The contractor, the local company ABD Bedachungen GmbH, therefore recommended fast-setting
liquid applied waterproofing based on polymethyl methacrylate (PMMA). The fleece-reinforced Triflex ProTectwas used here. Its low weight per unit area meant that the roof waterproofing system could be applied to the existing bitumen membranes without any need for demolition. Even at cold temperatures. The special resin also safely integrates complicated details such as securants, fans and skylights into the waterproofing. The traffic-yellow coloured anti-slip coating Triflex Cryl SC 237 was used to create the maintenance paths.
Refurbishment requirements
Reliable protection against moisture ingress
Highly resistant to chemical, mechanical and thermal influences
Temporary protection against accidental falling instead of scaffolding
Application on existing substrate without any need for demolition
Elastic material
Integration of numerous connections and details
Application during the cold season
Anti-slip coloured maintenance paths
Refurbishment steps overview
Sweeping of the roof covering and removal of loose components
Refurbishment of any existing bubbling in the bitumen membrane
Sealing of all details and penetrations with

Triflex ProDetail

and

Triflex Special Fleece

Sealing the surface with

Triflex ProTect

and

Triflex Special Fleece

Masking of maintenance paths and coating with

Triflex Cryl SC 237

in traffic-yellow
TRIFLEX PROTECT MEANS INCREASED SECURITY THANKS TO THE SYSTEM-COMPATIBLE, SEAMLESS INTEGRATION OF CONNECTIONS AND DETAILS. THE CLEAR DEFINITION OF THE MAINTENANCE PATHS ALSO REDUCES THE RISK OF DAMAGE TO THE ROOF COVERING BY OTHER TRADESPEOPLE.
ABD Managing Director and Master Roofer René Zschiebsch