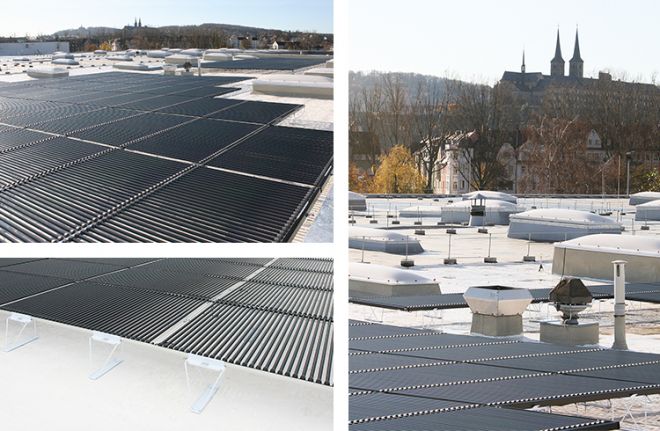 Photovoltaic roof of the municipal utilities (Stadtwerke) in Bamberg
The power of the sun is the energy source of the future for those who want to generate environmentally friendly electricity. And when free space is scarce, flat and slightly sloping roofs offer a largely unused reserve of space. Stadtwerke Bamberg combine both aspects by installing a photovoltaic system on the roof of their central building
and the adjacent parking garage on Margaretendamm in Bamberg. The energy suppliers rely on optimised Solyndra systems, which also convert parts of the sunlight reflected from the roof surface into energy to make a citizen's solar power plant as efficient as possible. When the solar experts at EBITSCHenergietechnik GmbH installed these cylindrically shaped photovoltaic modules,
they found Triflex ProTect to be the ideal waterproofing system. The fleece-reinforced waterproofing resin based on modern PMMA resins is mechanically resistant and wear-resistant, highly weather-stabilised and thermally insensitive. The high reflection value of the additional finish Triflex Cryl Finish 205 which is applied in its pure white colour also guarantees optimum efficiency of those photovoltaic elements mounted on it.
Refurbishment requirements
Long-term secure waterproofing of surface and connections
Coloured background, the reflection value of which optimises the efficiency of the photovoltaic elements mounted on it.
Rapid refurbishment
Resistance to mechanical and thermal loads
Refurbishment steps overview
Removing the gravel covering of the roof surface, opening the bubbles in the existing roof waterproofing, re-bonding the roofing and waterproofing with a polymer bitumen membrane, mechanically re-fixing the superstructure according to the fixing plan with stainless steel screws according to DIN 1055, insulating the subsequent roof superstructure such as high-profile fire protection walls, skylight frames and emergency overflows, integrating into the roof surface with bituminous overlay, setting flat roof securing elements
Priming with

Triflex Cryl Primer 222

Fleece-reinforced surface waterproofing with

Triflex ProTect

, fleece-reinforced detail waterproofing with

Triflex ProDetail

Waterproofing with

Triflex Cryl Finish 205

, colour pure white