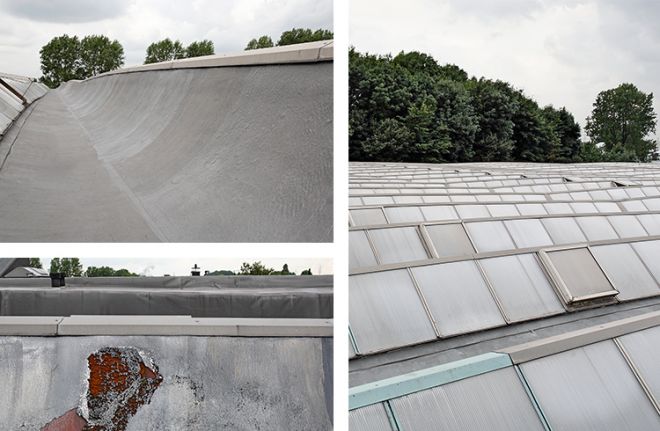 Sawtooth roof of an industrial warehouse in Essen
Triflex, the specialist for waterproofing, offers tailor-made long-term solutions, especially for uneven roof constructions with different material substrates,
with its liquid applied waterproofing. The sawtooth roof refurbishment of an industrial building in Essen is an example: the detail waterproofing system Triflex ProDetail can also be safely applied to PU-insulated roof surfaces. It thus offers long-term protection against wind and moisture even for complex roof surfaces. Thermal insulation and waterproofing are becoming increasingly important for industrial buildings in view of rising energy prices and environmental protection requirements. Efficient insulating materials made of polyurethane (PU) foam enable high-performance insulation that reduces heat loss even for building shells in existing industrial buildings. PU foam on the sawtooth roof of an industrial warehouse on Karl-Legien-Strasse in Essen ensures the energy insulation of the warehouse and production hall.
Refurbishment requirements
 Waterproofing surfaces; even undulating and vertical ones
Tricky details
A wide variety of materials at corners, windows, ventilation areas and drains
Adhesion to PU foam
Lasting protection
Application irrespective of weather conditions
Refurbishment steps overview
Substrate pre-treatment: removing old plastic sheets, removing loose parts
Substrate pre-treatment: priming absorbent substrates such as PU foam with

Triflex Cryl Primer 222

Waterproofing with

Triflex ProDetail
TRIFLEX PRODETAIL LIQUID APPLIED WATERPROOFING IS THE IDEAL WATERPROOFING SYSTEM FOR UNEVEN ROOF SURFACES BECAUSE THE MATERIAL ADAPTS TO THE SUBSTRATE AND GUARANTEES GREATER STABILITY.
Master roofer Wilfried Homeier, Homeier Bedachungen GmbH, Essen