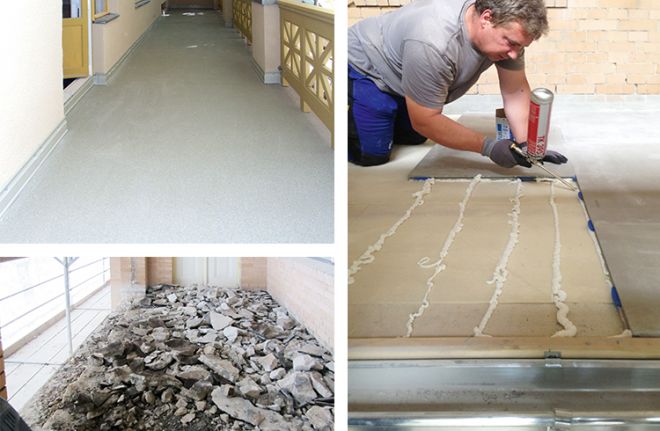 The Nursery Waldemar in Berlin is an architectural gem in the Luisenviertel district of Kreuzberg. The listed villa offers 85 children ample space to play and romp around. In order for the historic building to continue to be available as a social facility, the energy efficiency of the walkways on four floors had to be refurbished. The skilled contractors at the company Andreas Schmitz Dachbau Berlin installed the balcony thermal insulation system Triflex BIS to avoid thermal bridges and reduce heating costs. This is used together with the balcony waterproofing system Triflex BTS-P with a polymethyl methacrylate (PMMA) resin base. At the same time, the contractors have created reliable protection against penetrating moisture. The girls and boys in the nursery can now develop their full potential in the sustainably refurbished villa. The building on Berlin's Waldemarstrasse has been used as a social institution since 1877. It is located in the gardens of the former Bethanien Hospital, surrounded by green spaces and a children's farm, in the historic Luisenstadt district of Berlin-Kreuzberg.
Refurbishment requirements
Refurbishment of the walkways in accordance with the requirements of historical monuments
Elimination of thermal bridges despite low load reserves and construction heights
Reduction of heating costs through reduction of energy consumption
Protection from penetrating damp
Refurbishment steps overview
Substrate pre-treatment: removing the existing floor structure, applying load-distributing

Triflex Aquapanel cement board

to 22 mm
Applying the levelling layer, the bonding layer and the vapour barrier
Applying the polyurethane slope insulation
Applying the 22 mm thick, load-distributing

Triflex Aquapanel cement board

Priming with

Triflex Cryl Primer 276

Sealing details such as window, door and pillar connections with

Triflex ProDetail

, fleece-reinforced
Surface waterproofing using

Triflex ProTerra

and

Triflex Special Fleece

Protective and wearing layer with

Triflex ProFloor RS 2K

Waterproofing with

Triflex Cryl Finish 205

in pebble grey and interspersed with

Triflex Micro Chips
THE FAST DELIVERY OF THE WORKING MATERIALS, THE STRAIGHTFORWARD CUSTOMER SERVICE AND THE SIMPLE AND FAST APPLICATION OF THE PRODUCTS LED TO A HIGH LEVEL OF CUSTOMER SATISFACTION.
Processor Andreas Schmitz