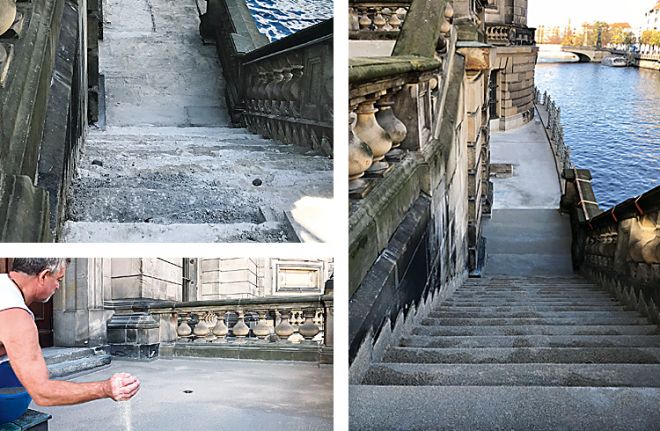 Terrace, staircases and platforms at the Berlin Cathedral
Its traditional history, its special architecture and its unique location directly on the river Spree make the Berlin Cathedral a popular destination for visitors from Germany and abroad. The old waterproofing was worn out and moisture had penetrated into the visible sandstone on the river bank terrace, stairs and landings. This resulted in extreme
efflorescence in this listed building. Several rooms, such as the sexton's office and various community and storage locations, were no longer usable due to the moisture damage. The High Parish and Cathedral Church (Oberpfarr- und Domkirche zu Berlin) commissioned construction company NITEC Gesellschaft für Planung, Bauleitung und Projektsteuerung mbH to prepare a redevelopment scheme as well as to implement the waterproofing and repair work for the affected components. The Cathedral Construction Office (Dombaubüro), the planners from NITEC and contractor Dietrich Irmler from Berliner Ausbau GmbH together decided in favour of Triflex after a product-neutral tender. Since the waterproofing was to be carried out on different substrates and in the connection area, and also because the substance was severely damp, the best choice was Triflex SmartTec.
Refurbishment requirements
Retaining historical character
Reliable, durable protection
Application on damp substrates
Compatibility with different building materials
Avoiding ice wedges and flashing strips
Reliable waterproofing of numerous detail connections
Weather-resistant, robust surface
Visual enhancement
Refurbishment steps overview
Dismantling, numbering and storage of pavement slabs and stairway steps on the Spree side
Removing the damaged old waterproofing and any heavily damp substructure
Creating a load-bearing substrate with new concrete or screed
Abrading the substrate
Reprofiling and repairing stairs up to complete formwork setting and pouring in new concrete
Priming with

Triflex Pox R 100

in the area of the sandstone details
Sealing with fleece-reinforced

Triflex SmartTec
TRIFLEX'S SYSTEM SOLUTIONS HAVE PROVED THEIR WORTH ESPECIALLY IN DIFFICULT AREAS AND IN CONTACT WITH OTHER MATERIALS.
Dipl.-Ing. Uwe Eckardt, NITEC Gesellschaft für Planung, Bauleitung und Projektsteuerung mbH