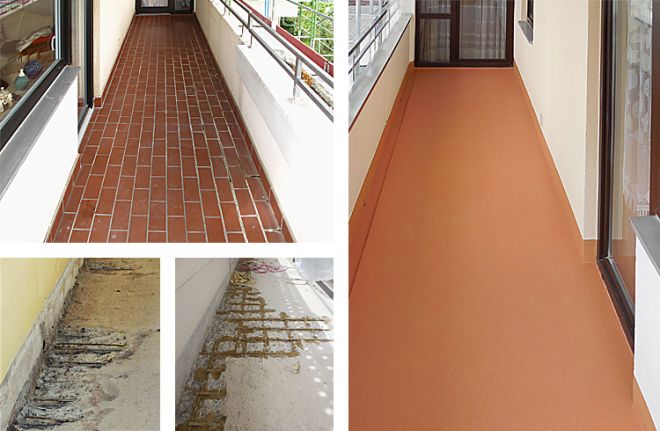 Balcony refurbishment in Gustav-Mahler-Weg 1-9 Baldham
Damage to the balconies of an extensive residential complex in Gustav-Mahler-Weg, Baldham, included crumbling plaster, loose tiling and moss formation at various points Leaky expansion joints and cracks in the balcony surfaces had let moisture penetrate into the structure and had led to massive damage to the reinforcement steel in places. The gradient which was insufficient in places intensified this consequence, as water was draining off too slowly, or sometimes not at all
and was therefore penetrating the substrate. The property management company Hammerla, Munich, decided to repair them to protect the building fabric permanently against moisture, to enhance the appearance of the many balconies and to make them usable again soon for the residents. After a precise situation analysis and a refurbishment scheme developed by Betontechnologische Ing.-Gesellschaft mbH, a working group from Munich, consisting of the specialist companies Reinhold Knoll GmbH and Polyfloor GmbH, was awarded the contract. The specialists waterproofed the balcony surfaces with their total area of over 1,250 m² using long-lasting Triflex BTS-P based on polymethyl methacrylate (PMMA).
Refurbishment requirements
New gradient formation for controlled drainage of rainwater
Secure integration of all details into the waterproofing
Crack-bridging and waterproofing system solution with low construction height
High-quality floor covering with durable waterproofing properties
Weather-resistant surface
Attractive colour design
Refurbishment steps overview
Removing the tile covering
Installing a new drainage system
Abrading the newly produced screed
Priming the surface using

Triflex Cryl Primer 276

Detail waterproofing of wall connections and doors with

Triflex ProDetail

Sealing the surface with fleece-reinforced

Triflex ProTerra

Coating of the surface with

Triflex ProFloor

Surface with

Triflex Colour Design

(in red-orange and cream-beige)
Waterproofing with

Triflex Cryl Finish Satin