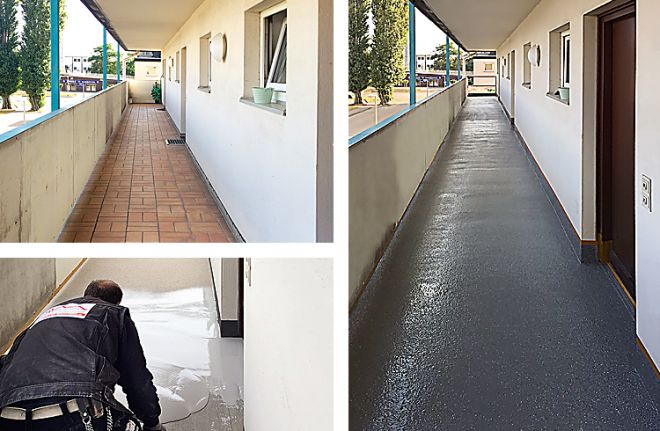 Lavaterhof Hanover apartment house walkways
The dripping edge of the two walkways of a residential building in southern Hanover was covered with moisture. Over time it had damaged both the tiles and the screed. As a result, the property management company, HAUS & GRUNDEIGENTUM Service, Hanover, needed a refurbishment. The inhabitants use the walkways as access to their apartments
and so need to be usable again as soon as possible. A solution was therefore required that could be implemented quickly and with short closure periods. After detailed consultation by the commissioned company O. + D. Hartmann GmbH from Bad Nenndorf and the Minden-based liquid applied waterproofing specialist Triflex, the administration decided for the long-term waterproofing system Triflex BTS-P. The material adheres to various substrates and could be applied to the existing tiles without affecting the stability.
Refurbishment requirements
No demolition of the old covering
Quick application
Long-lasting waterproofing
Weather-resistant, robust surface
Slip-resistant
Refurbishment steps overview
Removal of damaged tiles in the eaves area and levelling using the repair mortar

Triflex Cryl Finish 215

Abrading of the remaining, undamaged tiles
Installing a new drip tray
Priming the surface using

Triflex Cryl Primer 276

Priming and subsequent detail waterproofing of drip tray, wall connections, doors and drains with

Triflex ProDetail

Sealing of the surface with

Triflex ProTerra

Coating of the surface with

Triflex ProFloor RS 2K

and quartz sand dressing
Finishing the surface with

Triflex Cryl Finish 205

(dark grey) and

Triflex Micro Chips

(black and white)
THE COOPERATION WAS ABSOLUTELY SEAMLESS. THE RESULT IS FLAWLESS AND TECHNICALLY EXCELLENT.
HAUS & GRUNDEIGENTUM Service