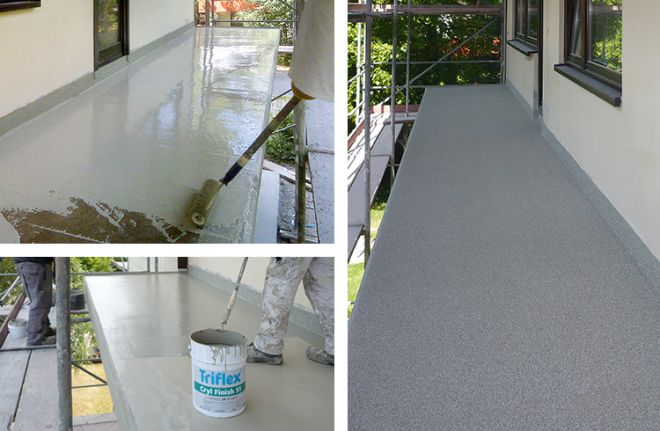 High-rise building at the Ratingen ring kiln
The spacious balconies of the seven-storey high-rise in Ratingen are visible from afar. Since 1971 they have offered tenants unobstructed views of the Ratinger forests and meadows. However, they were damaged and residents could not enjoy them to their full – despite several refurbishments, the railing fastenings on many balconies caused a risk of falling, which made them unusable. To
restore this space for the tenants to relax in again and to waterproof the balconies securely over the long term, SBS Special-Bautenschutz-Service GmbH from Mülheim an der Ruhr decided to use the balcony coating system Triflex BFS in flame retardant special version S1. The multiple certified specialist for building protection and maintenance attached importance to having a system in which all work steps could be carried out from a single source, one which would quickly make balconies accessible again and was flame-resistant in the case of fire.
Refurbishment requirements
Permanently secure waterproofing of balconies
Integrating all details with one system
High mechanical load capacity of the surface
Realisation of the construction project in the case of changing
weather conditions
Increased fire protection on balconies with a flame-retardant floor covering (B1 according to DIN 4102)
Refurbishment steps overview
Substrate pre-treatment: Deconstructing the balcony superstructures to the bare concrete floor and repairing the concrete floor with polymer cement concrete (PCC) screed
Priming with

Triflex Cryl Primer 276

Waterproofing the joints and details with

Triflex ProDetail

Applying the surface coating

Triflex ProFloor S1

Waterproofing with

Triflex Cryl Finish S1

Blowing in

Triflex Micro Chips
AS A SPECIALIST CONTRACTOR, WE CONSTANTLY KEEP UP-TO-DATE WITH THE LATEST SYSTEMS
TO FIND THE BEST SOLUTIONS FOR EACH PROJECT. WE WORK CLOSELY WITH THE EXPERTS ON THIS – AN APPROACH THAT HAS ALSO RESULTED IN VERY GOOD SUCCESS WITH TRIFLEX IN THE FIELD OF FIRE PROTECTION.
Werner Buchloh, Managing Director of SBS GmbH, Mülheim