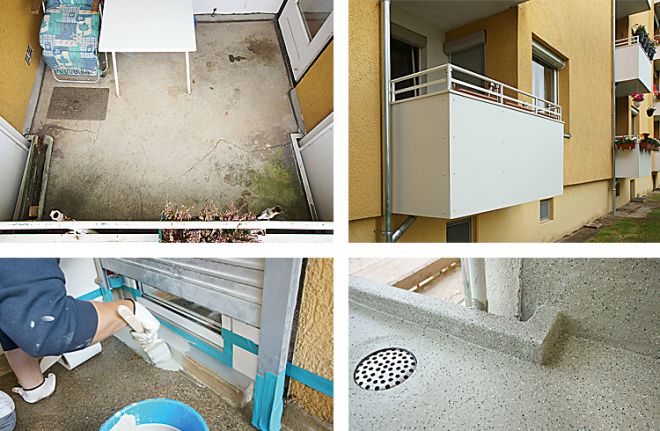 Kranichdamm Salzgitter apartment house balconies
After more than 60 years, the old surfaces of the balconies of an apartment building in Salzgitter had become worn out. They were peeling and could no longer reliably protect the construction beneath from the effects of the weather. Penetrating moisture
had led to concrete and water damage, some of which appeared in the owners' living rooms. In addition, severe signs of wear marred the appearance of the balconies. Salzgitter Wohnungs-GmbH as administrator commissioned the refurbishment of all the balconies in the name of the apartment owners association Wohnungseigentumsgemeinschaft (WEG) Kranichdamm 35-41, Salzgitter. Extensive waterproofing, concrete and painting work was required to create a functional protection layer with the repair to be carried out from a single source. Rainer Bothe Malerbetrieb GmbH, Bad Harzburg, recommended to the client that the best way to achieve permanently durable waterproofing was a solution using the balcony waterproofing system Triflex BTS-P with a polymethyl methacrylate (PMMA) resin base.
Refurbishment requirements
Lasting protection
Work in sections
Reliable waterproofing of numerous detail connections
Weather-resistant, robust surface
High mechanical strength
Visual enhancement
Refurbishment steps overview
Deconstruction of the balconies including the asbestos content of the parapet
Repair of the raw concrete floor with new screed.
Abrading the mineral substrate
Priming the surface using

Triflex Cryl Primer 276

Detail waterproofing of wall connections, floor drains and circumferential steel edge with

Triflex ProDetail

Sealing the surface with

Triflex ProTerra

Coating of the surface with

Triflex ProFloor RS 2K

Finishing the surface with

Triflex Cryl Finish 205

and

Triflex Chips Design

(black and white)
Installation of a new parapet cladding
THIS WAS A COMPREHENSIVE PROJECT INCLUDING REPAIRING THE CONCRETE, SEALING AND DESIGN, WHERE THE CLIENT WAS LOOKING FOR A LONG-TERM SOLUTION. THE WORK WAS DONE FROM ONE SOURCE AND SOLVED THE PROBLEM PERMANENTLY.
Thilo Bothe, Rainer Bothe Malerbetrieb GmbH