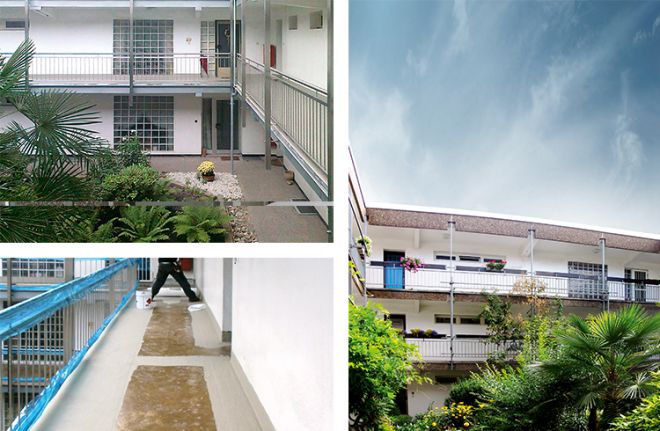 Apartment building in Pillauer Weg Kaarst
The walkways of the Atrium residential building on Pillauer Weg in Kaarst now offer residents a balcony waterproofing system after refurbishment with Triflex BTS-P S1, as well as an attractive appearance and more safety in the event of fire. The leaky surface of the walkways had let moisture penetrate into the building over time and severely damaged the wall and floor structure. Using the flame-retardant waterproofing system Triflex BTS-P S1, based on polymethylmethacrylate resins (PMMA), the specialist contractors at Franz-J. Schmitz Bauwerkserhaltung GmbH in Bottrop waterproofed the surface of the walkways securely in the long term. In terms of fire protection, they now comply with the provisions of
the NRW Regional Building Regulations(BauO NRW) and can be used as the primary escape route in the event of a fire. The atrium building on Pillauer Weg in Kaarst was built in the mid 60s. It offers its residents in 22 residential units on two floors a beautiful, green living space in a quiet location on the edge of Kaarst.
Refurbishment requirements
Long-lasting waterproofing
Fire protection for escape routes
Weather-resistant surface
Attractive appearance
Easy maintenance
Short closure periods
Low noise levels for local residents
Refurbishment steps overview
Substrate pre-treatment: Abrading the new screed
Priming with

Triflex Cryl Primer 276

Detail waterproofing with

Triflex ProDetail

Waterproofing with

Triflex ProTerra

Coating with

Triflex ProFloor S1

Waterproofing with

Triflex CrylFinish S1

, dressing with

Triflex Micro Chips
IF THE WALKWAYS OF A BUILDING ARE USED AS THE PRIMARY ESCAPE ROUTE, THEY MUST COMPLY WITH THE SPECIFICATIONS OF THE BAUO NRW.
Jörg Weigandt, Triflex area sales manager Mitte-West