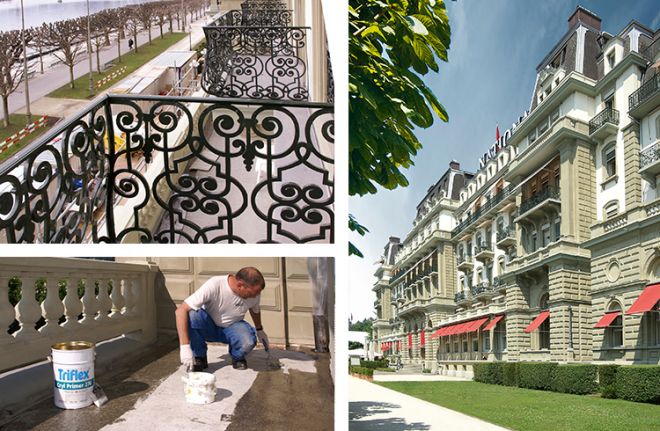 Restoration of the façade of the Grand Hotel National Lucerne (CH)
Founded more than 140 years ago by César Ritz and Auguste Escoffier, the Grand Hotel National still today commands pride of place on the promenade in the heart of Lucerne, with views of Rigi, Stanserhorn and Pilatus. Despite some structural changes, central parts of the building, such as the entrance hall, the dining room, the staircase and the façade, are still in the original French
Renaissance style. Over the decades, however, the Fin-de-Siècle façade has suffered much water-related damage. Water damage traces, cracks and mosses mar the appearance of the historic building. The many ornaments as well as the detailed decorations of the balconies and terraces presented a special challenge for the refurbishment. Façade refurbishment calls for the highest level of expertise, not least because of requirements relating to the preservation of historical buildings. This is why it takes experienced stonemasons to carry out the restoration of the sensitive masonry. Mathis Flachdach AG used the waterproofing system Triflex BTS-P and the coating system Triflex BFS to refurbish the balconies.
Refurbishment requirements
Quick application
High mechanical strength
Sealing of numerous adornments and ornaments
Retaining historical character
Functional safety even under dynamic loads such as structural movements, vibrations and contraction stresses caused by temperature changes.
Refurbishment steps overview
Surface preparation: loose parts are removed
Priming with Triflex Cryl Primer 276
Fleece-reinforced detail waterproofing with

Triflex ProDetail

Surface waterproofing using

Triflex ProTerra

, and

Triflex ProFloor

in combination with

Triflex Special Fleece

Waterproofing with

Triflex Cryl Finish 205

, dressing with

Triflex Micro Chips
THE BALCONIES WERE REFURBISHED VERY QUICKLY. THE SMALLER BALCONIES WERE READY WITHIN ONE DAY, EVEN THE LARGER ONES NEEDED A MAXIMUM OF FIVE WORKING DAYS. THE PURE SEALING MEASURE WAS ALWAYS MANAGED IN A SINGLE DAY.
Gehrig, Mathis Flachdach AG