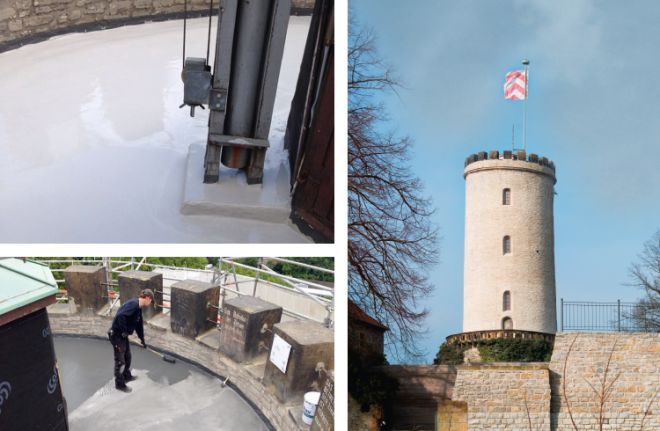 Sparrenberg Castle Bielefeld castle keep
The 37-metre tower of Sparrenburg Castle is a historical monument whose preservation needs to be secured for a long time. The balcony waterproofing system Triflex BTS-P ensures this with its polymethyl methacrylate (PMMA) resin base. The specialist processors of the local company Bedachungen Lohmann applied the liquid applied waterproofing to the surface of the viewing platform within just a few days. This fits like a second skin to the substrate, thus retaining the original medieval
appearance of the castle complex. Thanks to their high chemical and mechanical strength, the system solution also protects the building permanently against penetrating moisture. After refurbishment, the keep that was built in the 13th century once again offers its visitors a wide view of the surrounding area. Bielefeld's Sparrenburg Castle is located in the Teutoburg Forest. Initially used as the administrative seat of the sovereigns, it was converted into a fortress in the 15th century. When its military importance waned at the end of the 17th century however, the decline of the building began. Sparrenburg Castle was rebuilt in 1842 with the romanticism of the castle. Today, it is not only a popular destination for excursions, but also a
designated flora and fauna area.
Refurbishment requirements
Quick application
Retaining historical character
Long-lasting waterproofing
Slip-resistant and weather-resistant surface
Refurbishment steps overview
Grinding of the asphalt
Priming the surface using Triflex Cryl Primer 222
Repairing uneven areas with Triflex Cryl Paste
Detail waterproofing of wall junctions, roof gutters and flagpole with Trifex ProDetail
Waterproofing the surface with Triflex ProTerra
Finish with Triflex Cryl Finish 205, colour 7043 (traffic grey), with fine quartz sand dressing
THE GREAT COOPERATION WITH THE SALES AND TECHNICAL DEPARTMENTS OF TRIFLEX AND THE HIGH QUALITY OF THE PRODUCTS CULMINATED IN AN EXCELLENT RESULT.
Contractor Michael Mohr Dachbau, Rheinbreitbach