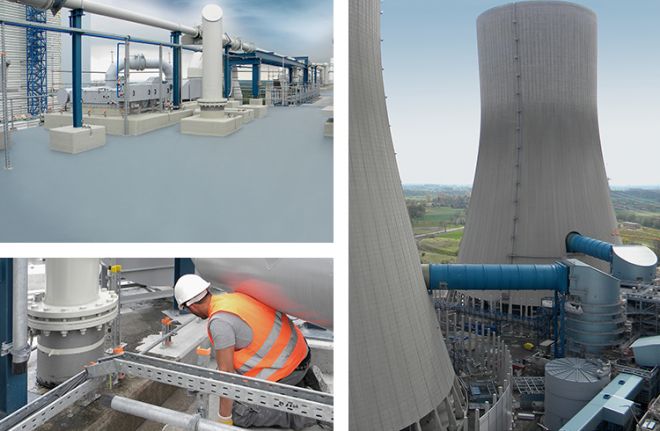 RWE Power AG is currently building one of the most modern coal-fired power plants in the world with an output of two times 800 MW in Hamm, Westphalia. The twin-unit plant will be built by RWE Technology GmbH, put into operation and taken to commercial operation. The power plant includes a complex of holding and fly ash silos in which the fly ash and limestone powder are stored and loaded. In order to protect the roofs of the reinforced concrete silos from the effects of the weather and to integrate a large number of details seamlessly into the waterproofing surface, skilled contractors from the Stromberg company in Duisburg have waterproofed these with
Triflex ProTect. The roof surface waterproofing system based on polymethyl methacrylate (PMMA) permanently waterproofs existing cracks as well as material transitions. Stefan Lindner, project manager for civil engineering at RWE Technology, is impressed by the high-performance waterproofing system and the flexible and skilled construction management of the liquid plastics manufacturer Triflex.
Refurbishment requirements
Sealing material transitions steel/reinforced concrete
Sealing changing geometries, e.g. horizontal, flat to cylindrical
Recurring maintenance intervals
Sealing cracks in sloping concrete
Sealing dowelled fixing points
Refurbishment under changeable weather conditions
Highest safety precautions
Refurbishment steps overview
Abrading the concrete substrate
Priming with

Triflex Cryl Primer 276

Waterproofing with

Triflex ProTect

with quartz sand dressing 0.7–1.2 mm and

Triflex ProDetail

Waterproofing with

Triflex Cryl Finish 205

in blue-grey
THE HIGH STEAM PARAMETERS AND THE THERMODYNAMIC OPTIMISATION OF THE WATER-STEAM PROCESS CAN ACHIEVE A NET ELECTRICAL EFFICIENCY OF ABOUT 46%.
Energy producer RWE