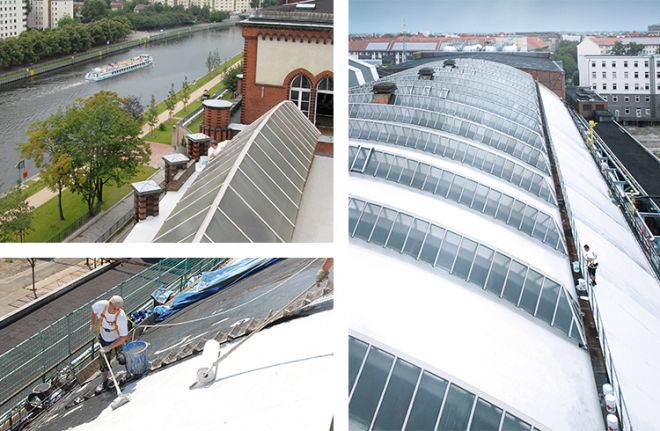 Vattenfall Machine Hall Berlin-Charlottenburg
Safely leashed at a lofty height with a great view of the Spree: this formed the setting for the successful roof refurbishment of one of the Vattenfall Group's disused machine hall in Berlin's Charlottenburg district. The barrel-shaped roof of the building built around the turn of the century was in urgent need of refurbishment. The bituminous surface required a new seal. The hollow tile ceiling construction,
to which mechanical anchors could not be attached, as well as several bitumen sheets glued on top of each other posed a special challenge here. The power company Vattenfall commissioned Palluth Dachbau GmbH from Berlin to carry out the refurbishment work on this listed building. After numerous trials with various technical processes, Vattenfall, in cooperation with the planner Ewald Rohde, finally decided in April 2007 that they could circumvent the mechanical anchoring problem using the system solution Triflex ProTect in conjunction with
Triflex ProDetail for the vertical surfaces and junctions.
 
Refurbishment requirements
Fast and safe application even with complicated connections and surfaces with a large sloping angle
Protection of the building fabric even after years of exposure to weather influences
Avoiding mechanical anchoring
Reduction of the thermal load by choosing light-coloured material
Refurbishment steps overview
Removal of old bitumen sheets and primers
Closing the holes and filling the cracks in the hollow tile ceiling with

Triflex Cryl Paste

Priming with

Triflex Cryl Primer 222

Detail waterproofing of all connections at strip lighting, corners and parapets with

Triflex ProDetail

, fleece-reinforced
waterproofing of vertical surfaces with

Triflex ProTect

and

Triflex ProDetail

, factory-fitted with adjusting agent, fleece-reinforced
application on the surface

Triflex ProTect
WE WERE SPECIFICALLY LOOKING FOR A SOLUTION WITH A VERY SHORT CURING TIME. IT WAS ESSENTIAL TO PREVENT ANY WATER AT ALL FROM GETTING INTO THE MACHINE HALL. THE TRIFLEX MATERIAL IS PARTICULARLY SUITABLE FOR SUCH DIFFICULT REQUIREMENTS AND CAN BE APPLIED QUICKLY AND RELIABLY EVEN WITH COMPLICATED CONNECTIONS.
Christian Palluth, co-owner and managing director of Palluth Dachbau GmbH