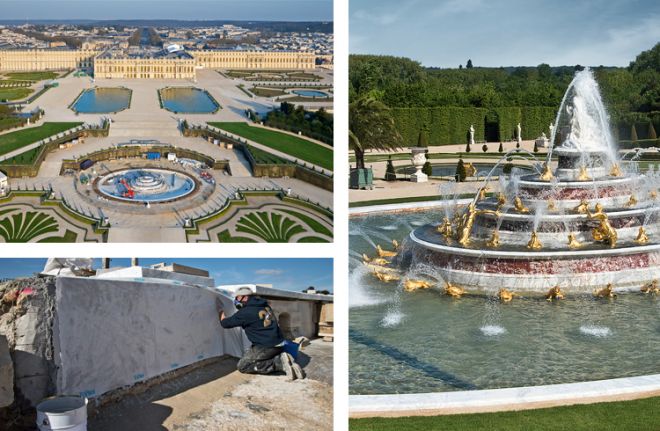 Versailles Fountain of Latona (FR)
Everything together. The decision to completely restore the fountain came about as part of the large-scale construction work undertaken by the Palace of Versailles, and the restoration was carried out by Pierre André Lablaude, chief architect at the "Monuments Historiques" department for historic buildings. Due to the nature and complexity of this object, many agreements had to be made and
a lively exchange was necessary, including around the choice of waterproofing system. Sample details were reviewed in terms of their resistance and behaviour in different weather conditions. So the Triflex ProTect and Triflex ProDetail systems were selected for their respective properties and their perfect compatibility.
Refurbishment requirements
Highly resilient with dynamic crack-bridging
Ideal for refurbishments
Waterproof down to the smallest detail
Short curing times
Flexible application options
Refurbishment steps overview
Preparing the substrate: grinding off
Primer:

Triflex Pox R 100

Detail waterproofing:

Triflex ProDetail

+

Triflex Special Fleece

Surface waterproofing:

Triflex ProTect

+

Triflex Special Fleece

Finish:

Triflex Cryl Finish 205

+ Installing marble elements
OVER THE PAST 20 YEARS, TRIFLEX AND EMAT HAVE DEVELOPED A SOLID WORKING RELATIONSHIP IN A CONSTANT QUEST FOR GREATER PERFORMANCE AND RELIABLE PRODUCTS.
(EMAT)