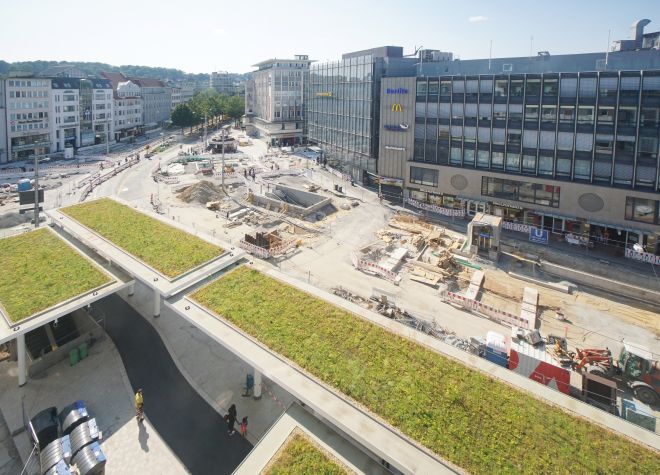 Green roof on newly built canopy at the Jahnplatz square
The Jahnplatz square in the city of Bielefeld in East Westphalia is a central traffic hub, right in the middle of  the city. The mobility strategy, covering the period until 2030, approved by the Bielefeld municipal council, defines modern and environmental compatible mobility for a liveable and dynamic future. It is intended as a contribution to climate protection, with car traffic making way for public transport and cyclist and pedestrian traffic. A central project within the scope of the mobility strategy is the redevelopment of the Jahnplatz square. Thus, due to the increased nitrogen dioxide pollution, the municipal development committee decided upon a reduction of motorised private transport at the Jahnplatz and redevelopment of the square: In future, pedestrians, cyclists and bus passengers will have more space.
In the process, a canopy was constructed over the "Jahnplatz" stop. In the spirit of the sustainable concept, it was to be covered with a green roof structure. The metal construction, built and installed by Egoé, had to be protected accordingly. Triflex waterproofing systems, such as Triflex ProTect with fleece inlay, provide not only a certified green roof system, but also adhere perfectly to metal. With this in mind, adhesion to galvanised stainless steel was tested in advance internally at the Triflex laboratory. Details, such as the all-round gutter, securants or roof gullies, were also reliably waterproofed with Triflex ProDetail. The gravel guard strip at the edge of the roof surface was bonded with Triflex Cryl Paste. The fact that this waterproofing was applied during a very cold spring was a further argument in favour of the Triflex systems, which can even be processed at temperatures as low as 0 °C. And, after all, the investor had already had good experiences with the Triflex waterproofing systems on other projects.
Refurbishment requirements
Permanent marking despite high frequency of use
Fast, simple processing
Wear-resistant and non-slip surface
Resistant to weathering
Marking with RAL colours
Compatible system solutions from a single manufacturer
Short closure periods
Application during business operations
Refurbishment steps overview
Cleaning of the complete surface with

Triflex Cleaner

Filling of the wide joints with PE round sealing band as a joint filler, and taping over with 10 cm of

Triflex duct tape

for an even substrate
Sealing of the narrow joints and constructional drilled holes in metal with 5 cm of

Triflex duct tape

Priming with

Triflex Metal Primer

Waterproofing of details with

Triflex ProDetail

in combination with

Triflex Special Fleece

, use of

Triflex ProFibre

in addition for very complex areas
Waterproofing of the surface with

Triflex ProTect

in combination with

Triflex Special Fleece

Additional wearing layer in the gutter with

Triflex ProDetail
THE APPLICATION OF THE TRIFLEX SYSTEMS WENT AS PLANNED DESPITE THE DIFFICULT WEATHER CONDITIONS.
THE SUPPORT PROVIDED BY THE TRIFLEX APPLICATIONS ENGINEERING DEPARTMENT AT THE CONSTRUCTION SITE WAS VERY GOOD.
Marián Ochránek, Egoé plus Site Manager