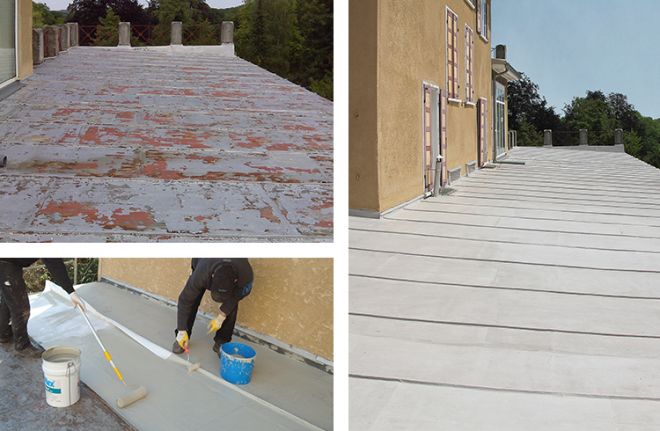 The castle complex from the 19th and 20th centuries is situated in a magnificent landscape park. In addition to the different lifestyles of four generations of aristocratic barons, a remarkable Art Nouveau library and picture gallery are also on display to visitors. The project involved the restoration of the standing seam roof of the south wing to keep the art-historical features protected against rain and temperature fluctuations. The protective coating on the 245 m² zinc roof was already flaking, so any further damage to the zinc layer would quickly have corroded the material. For this reason, the Fachsenfeld Castle Foundation, as the client, decided early on to have the roof repaired. The roof refurbisher Dittmar GmbH recommended the waterproofing system Triflex ProTect which is specially developed for flat roofs, as well as Triflex ProDetail for the details in the connection area.
Refurbishment requirements
Refurbishment without any demolition
Preservation of the building statics
Application on galvanised sheet metal
Integration of numerous connections and details into the waterproofing
Application even at winter temperatures
Refurbishment steps overview
Grinding off the splintered surface paint and rust protection layer
Cleaning the rough surface of the sheet metal roof with Triflex special cleaner
No priming was necessary
Connections, details, and skylights were treated with a generous first layer of

Triflex ProDetail

Bubble-free application of the Triflex special fleece, adaptation of the fleece width to the individual roof panels
A further layer – completely saturated and applied wet-on-wet – of

Triflex ProDetail

Surface waterproofing using

Triflex ProTect

Waterproofing of the entire sheet metal roof using

Triflex Cryl Finish 205

in light grey for better light reflection
TRIFLEX IS THE IDEAL PARTNER FOR THE SPECIAL REQUIREMENTS OF SHEET METAL ROOF SEALING IN A LISTED BUILDING IN DIFFICULT WEATHER CONDITIONS.
Peter Weber, Managing Director of Dittmar GmbH