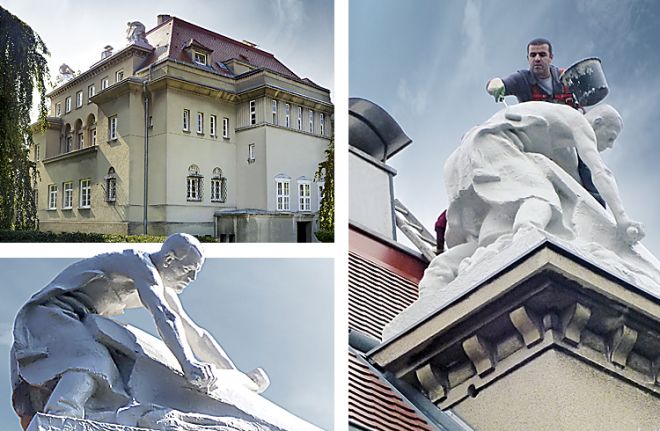 Altes Gerberhaus, Wels (AT)
The listed former Gerberhaus (tannery building) in Wels, Upper Austria, is a particular eye-catcher. On the roof of the building, built in 1925, two imposing tanner figures adorn the front of the building. Due to their exposed location, the representative statues have become in need of refurbishment over the years. Constantly exposed to all weather conditions without any protection, the old coating is already crumbling off and the bare concrete showing through. The waterproofing specialists commissioned by Santech Ges.m.b.H. from Linz perform masterfully both in terms of craftsmanship and logistics. A particularly flexible and easy to apply material was required for the refurbishment work, as the original shape of the figures was to be retained under all circumstances. Therefore, Triflex ProFibre, a fast-setting Triflex waterproofing resin based on polymethyl methacrylate (PMMA).
Refurbishment requirements
Flexible and elastic waterproofing of hard-to-reach details
Retention of the original shape of the Gerber figures
Excellent adhesion to concrete
Lasting protection from adverse weather conditions
Crack-bridging and impermeable from all sides
Refurbishment steps overview
Thorough grinding off of the old coating
Priming the figures
Waterproofing larger areas such as the base with

Triflex ProDetail

Waterproofing all details such as hands, face or muscle parts with

Triflex ProFibre
THANKS TO ITS EXCELLENT ADHESION TO CONCRETE, THE LIQUID RESIN HUGS THE FIGURES
LIKE A SECOND SKIN.
Employees of Santech Ges.m.b.H. from Linz