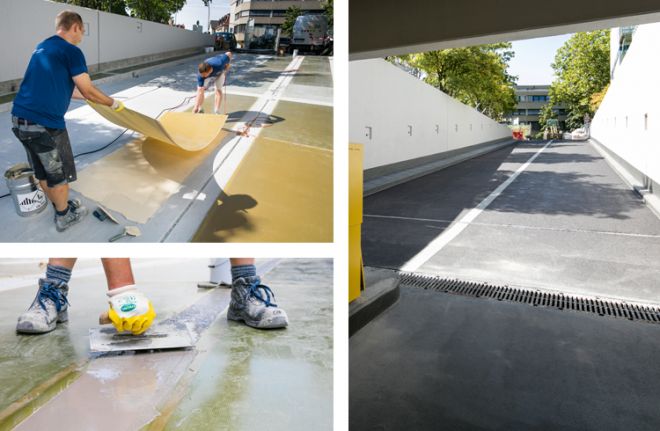 Town Hall multi-storey car park ramp
The "KUBUS Aalen" project is a new construction of an 8,000m² building complex for retail, offices, services and gastronomy which is being built on the former Kaufring department store site at the Aalen market square. Sufficient parking facilities for cars and bicycles are available in the town hall underground car park. The high frequency of traffic had led to cracks and mechanical wear in the existing surface covering of the car park ramp. Weather conditions (snow, freezing rain, hail, etc.) and chemical influences had badly damaged the concrete. In addition, the spreading and clearing work was very time-consuming and
incurred high costs. On behalf of Stadtwerke Aalen GmbH, consultant engineers Boll und Partner Beratende Ingenieure VBI Ingenieurgesellschaft mbH & Co KG was looking for an economical solution that would minimise the risk of accidents for vehicles and persons in the long term and withstand high mechanical and chemical stresses. In joint coordination with Geiger Bauwerksanierung GmbH and Triflex employees, the decision was made to use the panel heating system Triflex HeatTec in combination with Triflex ProPark version 2 with a polymethyl methacrylate (PMMA) resin base.
Refurbishment requirements
Installation of an open space heating system
Dynamic crack bridging (OS10) as well as high wear resistance and abrasion resistance (R13 / V10) of the wearing layer
Protection against chemical influences
Reduction of maintenance in winter
Flawless, safe use
Economical solution
Refurbishment steps overview
Shot blasting, cleaning the surface and marking the cable channels according to the installation plan
Milling the cable channels
Application of the primer
Bonding the

Triflex HeatTec

heating elements
Filling the spaces between heating elements, cable slots, etc.
Waterproofing with

Triflex ProPark version 2

including Triflex special fleece reinforcement
Producing the highly abrasion-resistant wearing layer using

Triflex Cryl M 264
TRIFLEX ON-SITE SERVICE WITH SUPPORT FOR ALL PARTIES INVOLVED IN THE PROJECT AS WELL AS ALL PARTIES JOINTLY FINDING THE SOLUTION RAPIDLY PLAYED AN IMPORTANT ROLE IN THE PROJECT.
Jörg Brackston, Geiger Bauwerksanierung GmbH