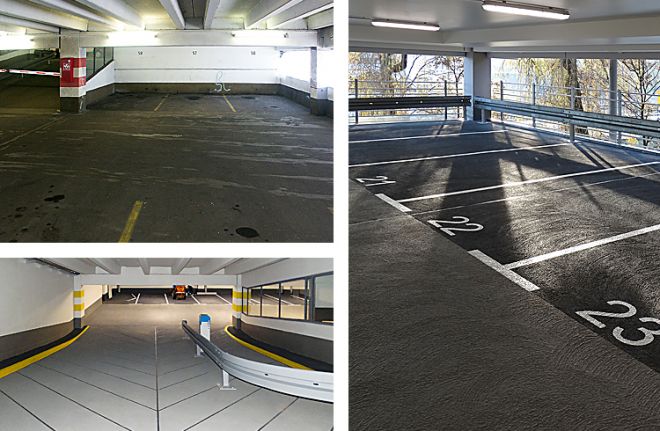 Most of the many joints showed leaks, and water containing de-icing salt made its way into the interior of the building during the winter months. In part, massive damage had already occurred to the structure, in particular to the reinforcements.
For this reason, the city of Kaufbeuren initiated a public tender procedure for the repair of the multi-storey car park. The contract was awarded to Geiger Bauwerksanierung GmbH & Co KG, Ravensburg. Developing a waterproofing solution for the numerous structural joints proved to be a particular challenge. For economic reasons, joint waterproofing exclusively with joint profiles was out of the question. In consultation with the responsible engineering office Weber, Türkheim, the structural engineer SPS GmbH, Kaufbeuren as well as Hubert Nägele from the municipal department, a solution concept for a dynamic crack-bridging joint waterproofing was developed for the construction industry. In connection with the surface protection system of the classification OS 10, which is provided by Triflex ProPark version 2, this forms a self-contained system.
Refurbishment requirements
Two-layer waterproofing over the joints of the driving and parking surfaces
Surface waterproofing with wear lining
Installation of joint profiles in the ramp area
Short closure periods
Enhanced user comfort
Refurbishment steps overview
Sealing all details with

Triflex ProDetail

and

Triflex Special Fleece

Sealing the surface with

Triflex ProPark

Producing the highly abrasion-resistant wearing layer using

Triflex Cryl M 264

: roadways and ramps in stone grey, parking areas in a darker traffic grey
Parking space markings and arrows on the entry and exit ramp as well as numbering of the parking spaces in white; traffic-yellow markings on the supports, kerbs and barrier island
THE SPECIAL SOLUTION THAT WE DEVELOPED AND IMPLEMENTED WAS BOTH TECHNICALLY AND ECONOMICALLY A VERY GOOD ALTERNATIVE TO THE EXCLUSIVE INSTALLATION OF JOINT PROFILES – JUST AS WEAR-RESISTANT AND DURABLE, BUT FAR MORE COST-EFFICIENT.
Ingenieurbüro Weber, Türkheim