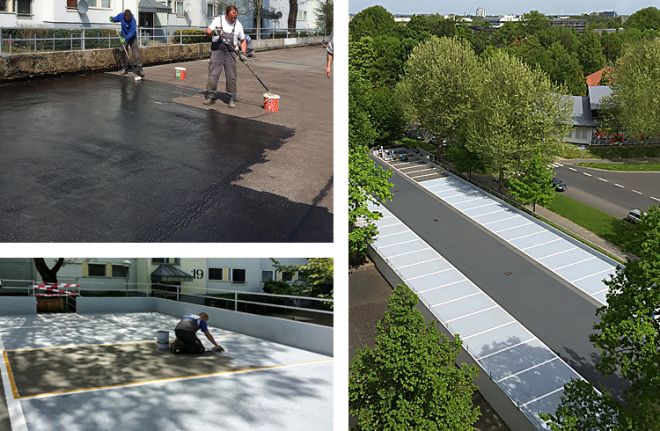 Kurt-Schumacher-Ring multi-storey car park
Within a short time, the refurbishment experts at Holl Flachdachbau GmbH, Salzgitter, provided the parking deck of a residential building in Salzgitter with a permanently waterproofed surface. The long years of frequent use by the daily entrance and exit of tenants and apartment owners had led to heavy wear of the pavement. Moisture had made its way into the construction. This resulted in damage to the vehicles parked in the garages below the parking deck
. The owners' association at Kurt-Schumacher-Ring 15-33 as owner, represented by WBV Wohnbau Betreuungs & Verwaltungs GmbH Salzgitter, therefore commissioned the refurbishment of the park waterproofing. A speedy, cost-efficient solution that would provide users with permanently safe parking space and long-lasting parking comfort was required. The refurbishment experts met these requirements with the top deck waterproofing system Triflex ProPark, version II.
Refurbishment requirements
Permanent protection against moisture ingress
High abrasion resistance of the wearing layer
Application on old layer without any need for demolition
Maximum safety for users
Coloured marking
Refurbishment steps overview
Sealing all details with

Triflex ProDetail

and

Triflex Special Fleece

Sealing the surface with

Triflex ProPark

Producing the highly abrasion-resistant wearing layer using

Triflex Cryl M 264

: Driving area in dark traffic grey, parking areas in window grey, white parking space markings
THE MATERIAL IS EASY TO PROCESS, SETS QUICKLY AND IS ABSOLUTELY SUITABLE FOR CONSTRUCTION. ALL SYSTEM COMPONENTS ARE WELL MATCHED TO EACH OTHER. IN THE MEANTIME, WE HAVE USED TRIFLEX IN OTHER CAR PARKS.
Site manager Bernward Ritter from Holl Flachdachbau GmbH