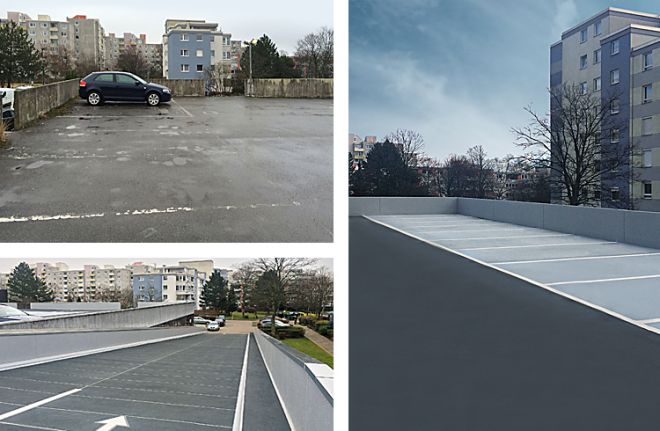 Weimarer Straße multi-storey car park.
Cracked asphalt, a defective bitumen seal and penetrating moisture in the lower deck – this was the damage assessment of a car park on Weimarer Strasse, Wolfsburg. In order to secure the contents and to provide the users with comfortable
parking space close to the apartments, the manager, BUWOG Immobilien Management GmbH, Wolfsburg, arranged for the 1,800 m2 top deck and ramp access to be repaired. A long-lasting seal was required that could also be attractively designed and at the same time had an attractive cost-benefit ratio. This was offered by the liquid applied waterproofing solution from Triflex. After joint, intensive planning by Harm Stelling, Triflex Sales Manager East Germany, the executing company Holl Flachdachbau, Salzgitter, the administration and the owners' association, the decision was made to use the top deck waterproofing system Triflex ProPark, version II.
Refurbishment requirements
Permanent protection against moisture ingress
Products approved by the building authorities
High wear resistance of the wearing layer
Application on old layer without any need for demolition
Maximum safety for users
Coloured marking
Refurbishment steps overview
Sealing all details with

Triflex ProDetail

and

Triflex Special Fleece

Sealing the surface with

Triflex ProPark

Producing the highly abrasion-resistant wearing layer using

Triflex Cryl M 264

: Roadway in dark traffic grey, parking areas in window grey, white parking space markings and arrows on the entry and exit ramp, white parking space numbering
Dressing with

Triflex MicroChips

into the waterproofing of the inner walls
Providing the disarmament with aluminium covers
THE DECISION IN FAVOUR OF THE LIQUID APPLIED WATERPROOFING SOLUTION MEANT THAT THE COST WAS ULTIMATELY ONLY AROUND A THIRD OF THE ORIGINAL PRICE.
Heiko Hartig, Holl Flachdachbau GmbH & Co. KG