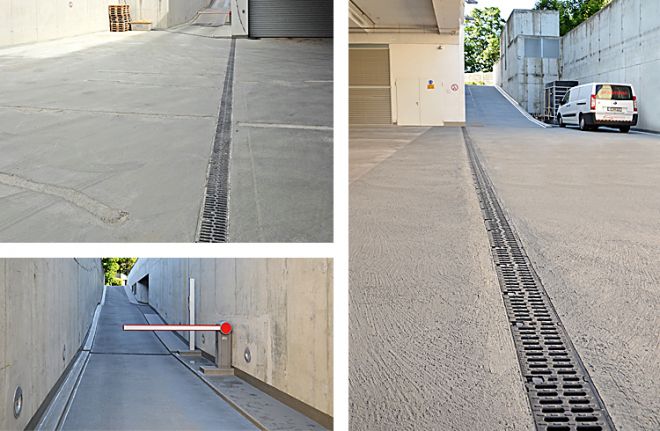 Access ramps and delivery area of the administration building of the VHV Group.
The access ramps and the VHV Group administration building delivery area in Hanover were in need of refurbishment. Cracks and mechanical wear in the existing surface coating had led to leakage in the underground car park. In order to protect it from moisture in the future, the refurbishment called for a highly resistant, waterproofing system suitable for vehicle traffic that would permanently withstand the loads of the vehicles entering and leaving. In addition, refurbishment could only be carried out over the weekend to avoid
interfering with employee parking. Dipl. Ing. Gerd Adamek from LPI Ingenieurgesellschaft mbH was seeking the best economical and technical solution on behalf of his client, the VHV Group. Working with the Triflex contact partners Harm Stelling and Sebastian Lücke, the decision was made to use the top deck waterproofing system Triflex ProPark with a polymethyl methacrylate (PMMA) resin base.
Refurbishment requirements
Products approved by the building authorities
High wear resistance of the wearing layer
No interruptions for employees
Protection of the existing ramp heating against moisture
Permanently waterproofed underground car park under the delivery area
Refurbishment steps overview
Exact testing of the substrate for hollow layers, among other things
Testing of material compatibility and adhesion properties to the existing coating system (OS 8 based on epoxy resin)
Shot-blasting and cleaning details and surfaces
Sealing all details with

Triflex ProDetail

and

Triflex Special Fleece

Sealing the surface with

Triflex ProPark

Producing the highly abrasion-resistant wearing layer using

Triflex Cryl M 264
TRIFLEX ON-SITE SERVICE WITH SUPPORT FOR ALL PARTIES INVOLVED IN THE PROJECT AS WELL AS ALL PARTIES JOINTLY FINDING
THE SOLUTION RAPIDLY PLAYED AN IMPORTANT ROLE IN THE PROJECT.
Dipl. Ing. Gerd Adamek, LPI Engineering Company Ltd.