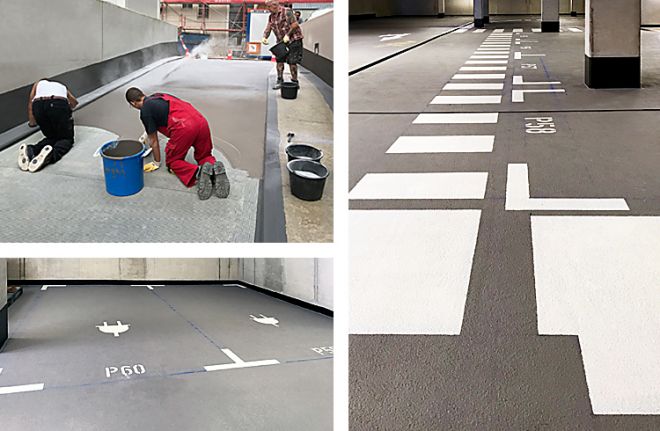 Spindlers Hof underground car park and ramps.
As part of an extensive refurbishment project, the underground car park of Spindler Hof in Berlin-Mitte was to be given a wear-resistant coating, among other things. A slip-resistant solution was required for the access ramps that would permanently withstand the high thrust and shear forces needed there and be compatible with the existing ramp heating system. The planners, the local company Aukett + Heese GmbH, decided to use Triflex in order to meet these requirements. The dynamic
crack-bridging parking deck coating system Triflex ProDeck (OS 11b) based on polymethylmethacrylate (PMMA) does not wear out, even with high frequency use. With the special reinforcement Triflex ProMesh the result is an even force distribution, which minimises movements of the substrate and thus the risk of cracking. The intermediate deck coating system Triflex DeckCoat (OS 8) increases the slip resistance in road surfaces and parking areas. The work was carried out by the specialist contractors at Dry Works Sonderbau GmbH, Hoppegarten, who have many years of experience with Triflex system solutions.
Refurbishment requirements
Reliable structural protection against moisture and chloride ingress
Anti-slip, wear-resistant coating
Short closure periods
Easy to maintain
Integration of details such as rising components, upstands at the kerbs, floor drains
Refurbishment steps overview
Shot blasting surfaces and concrete repair
Priming of surface and details with

Triflex Cryl Primer 287

Sealing all details with

Triflex ProDetail

and

Triflex Special Fleece

Laying out the reinforcement

Triflex ProMesh

on the ramps and impregnating with

Triflex Cryl Primer 287

Coating of the surface with

Triflex ProDeck

(ramps) or with

Triflex Cryl Finish 209

(underground car park)
Sprinkling fine hard grain (ramps) or quartz sand (underground car park) into the fresh coating and removal of the excess after setting
Sealing the area as well as coloured marking of the kerbs and pedestrian crossings with

Triflex Cryl Finish 209
TRIFLEX PROVED TO BE THE IDEAL SOLUTION FOR THE REQUIREMENTS OF THE VARIOUS AREAS, AS ALL SYSTEMS ARE COMPATIBLE WITH EACH OTHER.
Aukett und Heese GmbH, Berlin