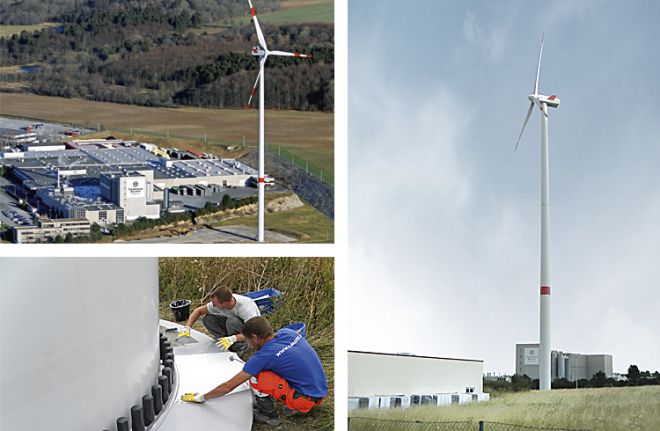 Brauerei Vestas V90 Paderborn wind turbine
In order to secure the wind energy yield in the long term, the foundation of the plant had to be upgraded for the rest of its life. We looked for the best possible solution. ITW Polymers Europe was therefore commissioned to manage and coordinate the project. Polymers Europe, a renowned manufacturer of solutions for industrial floors, traffic areas, foundation joints and concrete refurbishment, has earned an excellent reputation in the field of "wind turbine foundations". Project manager, Lars Geisler, emphasises that
the entire life cycle of the plant has to be considered in this work: "A sustainable finish is vital to avoid any future damage." The tried and tested Triflex Towersafe foundation waterproofing system was selected in order to protect the foundation against damage during the operating period.
Refurbishment requirements
Long-term protection of the foundation
Fast refurbishment irrespective of weather conditions
Permanently elastic design of the joint for safe absorption of component movements
Sealing of the foundation to prevent any water ingress
Resistant to mechanical, chemical and thermal loads
Shear-resistant system construction to enable long-term functionality of all individual functional layers
Refurbishment steps overview
Thorough removal of the old material in the joint area
Cleaning steel surfaces with Triflex Cleaner and roughening with abrasive paper
Full width abrasion of the horizontal concrete surface
Priming the foundation cap with Triflex Towersafe Primer
Forming the joint between steel and concrete with Triflex Cryl RS 240 mortar
Applying the Triflex Towersafe waterproofing layer
Incorporation of Triflex Special Fleece for durable and elastic waterproofing
Additional decoupling of the waterproofing by a special stone adhesive tape
Applying Triflex Towersafe Finish with quartz sand dressing for additional protection and slip resistance
OUR DISTINGUISHING FEATURES ARE EXPERIENCE AND EXPERTISE. THEREFORE, IN ALL PROJECTS WE ONLY USE EMPLOYEES WHO HAVE BEEN SPECIALLY TRAINED IN THE MATERIALS AND PROCESSES.
Markkleeberger Karo-Tec Baudienstleistungs-GmbH. Managing Director Mario Barthel