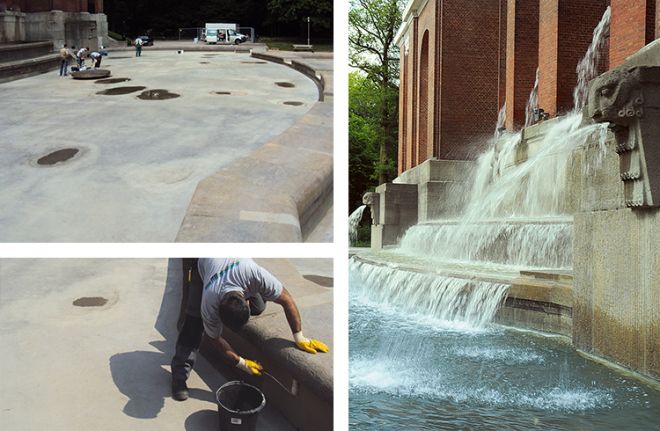 Every year more than 300,000 visitors go on a voyage of discovery through the cosmos in the Hamburg Planetarium. Since 1916,
a cascade-shaped pool complex with a total size of 1,700 square metres has provided magnificent water features in the Winterhude district of the city. Architect Oskar Menzel had used sensitive sandstone to construct the overflows. The complex is therefore listed as a historical monument. In the meantime it had become leaky and was no longer working properly. The LPI Ingenieurgesellschaft mbH planning office, which was commissioned to carry out the repair, provided a special waterproof concrete base and then had 250 square metres of upstands and 110 square metres of overflows waterproofed with Triflex liquid applied waterproofing. The dynamic crack bridging, its high mechanical load-bearing capacity and very good adhesion to concrete and listed natural stone were the decisive factors for a waterproofing system using Triflex ProDetail. Overall, the system's resistance to hydrolysis makes it ideal for decorative wells and water management structures. The project was professionally executed using Triflex ProDetail by Bauschutz GmbH & Co KG with a branch in Hamburg.
Refurbishment requirements
Installation of a waterproof concrete base
Long-term secure waterproofing of upstands and overflows
Compliance with the regulations for the protection of historical monuments
High mechanical load-bearing capacity for public traffic
Application of the system on different substrates
Colour adaptation to the sandstone material
Refurbishment steps overview
Substrate pre-treatment: sanding the surface, demolition and new use of the concrete base with special concrete
Levelling the surfaces to be waterproofed using Triflex Cryl RS 240 and Triflex Cryl Paste
Priming the pelvic upstands and overflows using Triflex Cryl Primer 276
Applying the fleece-reinforced waterproofing using Triflex ProDetail
Wear layer in the area of the overflows using Triflex Cryl M 264
Waterproofing with Triflex Cryl Finish 205
THE SYSTEM HAD TO BE PARTICULARLY FLEXIBLE IN ORDER TO BE ABLE TO GUARANTEE THE SEALING EFFECT DESPITE MOVEMENTS FROM THE BUILDING CONSTRUCTION. SINCE A LARGE NUMBER OF
THE APPROXIMATELY 300,000 VISITORS ALSO VISIT THE SIDE OF THE POOL EACH YEAR, IT WAS ALSO VERY IMPORTANT TO US TO HAVE A CORRESPONDING LEVEL OF ROBUSTNESS AND MECHANICAL DURABILITY.
TRIFLEX PRODETAIL MEETS THESE REQUIREMENTS.
Leading planner Dr. Ing. Lasse Petersen