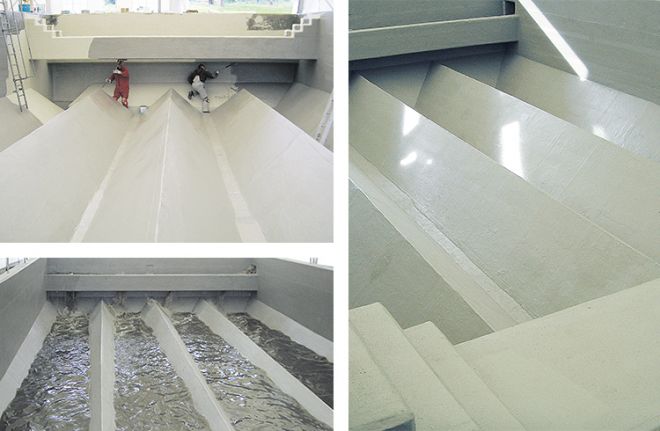 Retention reservoir at Vlotho sewage treatment plant
Special framework conditions require special measures! Using the fast-setting waterproofing system Triflex ProTect during the refurbishment of the retention basin of the Vlotho pumping station, a functional seal was achieved in spite of the
work interruptions due to "unscheduled" flooding caused by prolonged heavy rainfall. Due to the special situation, it was a priceless advantage that the waterproofing system Triflex ProTect set quickly and was therefore underflow-proof and waterproof. After pumping off the waste water, which interrupted the work due to "unscheduled" flooding during the refurbishment, there were no signs of any peeling in the waterproofing. The waterproofing system Triflex ProTect once again proved its serviceability under extreme conditions. Bernd Großmann is convinced that no other product could have mastered this delicate task.
Refurbishment requirements
Fast-setting, waterproof material
Refurbishment irrespective of weather conditions
Flexible waterproofing to 45-degree recesses, vertical surfaces and overhead
protection against aggressive waste water and sludge
Refurbishment steps overview
Sandblasting of the entire surface of the pool
Re-profiling of all breakouts and removal of loose parts with

Triflex Cryl Mortar

Priming with

Triflex Cryl Primer 276

Detail waterproofing, e.g. joints, connections, etc. with

Triflex ProDetail

Surface waterproofing using

Triflex ProTect
DESPITE THE PROLONGED HEAVY RAIN, WHICH FILLED THE POOL TWICE WITHIN A FEW MINUTES WHILE WORKING, ONLY THIS "FAST" SEALING SYSTEM AND SOPHISTICATED SITE LOGISTICS COULD GET THE JOB DONE.
Bernd Großmann