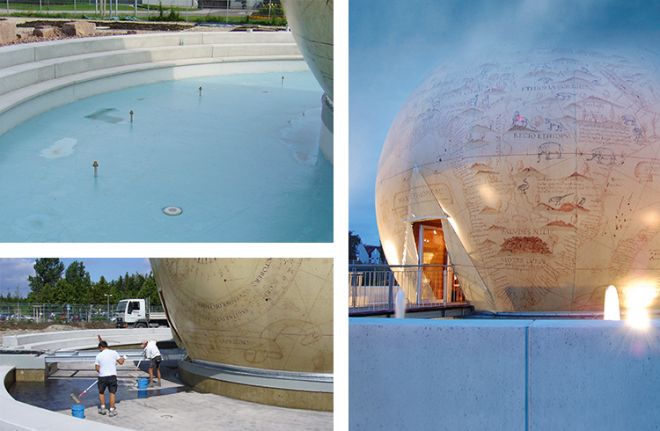 Mercateum – the largest accessible globe, Königsbrunn
The Mercateum is the the largest accessible globe, a monument to trade relations between India and the Augsburg region in Königsbrunn. Situated between the Königstherme spa and the local grammar school, the globe is made of a world map by the Spanish cosmographer Diego Ribero. To ensure that the spherical monument rests securely and permanently above the water surface, master roofers from the local firm Wildgrube & Sohn GmbH coated the asphalt and concrete water basin with the Triflex ProTect waterproofing system. This is a project where the 2-component waterproofing resin can prove its great processing qualities as well as its suitability for hydraulic structures. The ten-metre-high globe is enthroned on a platform in the middle of a water basin, a faithful projection of the world map drawn on parchment in 1529. Inside, exhibits on five levels provide insights into the beginnings and heyday of long-distance trade. Two footbridges lead visitors over the surrounding water basin into the steel skeleton building.
Refurbishment requirements
Reliable waterproofing even with standing water
Fully bonded
Seamless and homogeneous liquid-applied waterproofing between elastic asphalt surface on the pool floor and the concrete walls
Colour design of floor area and walls
Refurbishment steps overview
Abrading concrete and asphalt
Priming with

Triflex Cryl Primer 276

for concrete

Triflex Cryl Primer 222

for asphalt substrate
Waterproofing with

Triflex ProTect

in the surface; construction joints, details and vertical walls with

Triflex ProDetail

Waterproofing with

Triflex Cryl Finish 205

in 5080 Aqua and 7035 light grey colours
TRIFLEX PROTECT IS THE IDEAL MATERIAL FOR RELIABLY SEALING BUILDINGS IN STANDING WATER. THE FLEECE-REINFORCED LIQUID APPLIED WATERPROOFING ADHERES FULLY TO THE SUBSTRATE AND IS RESISTANT TO HYDROLYSIS.
Master Roofer Jürgen Wildgrube, Wildgrube & Sohn GmbH