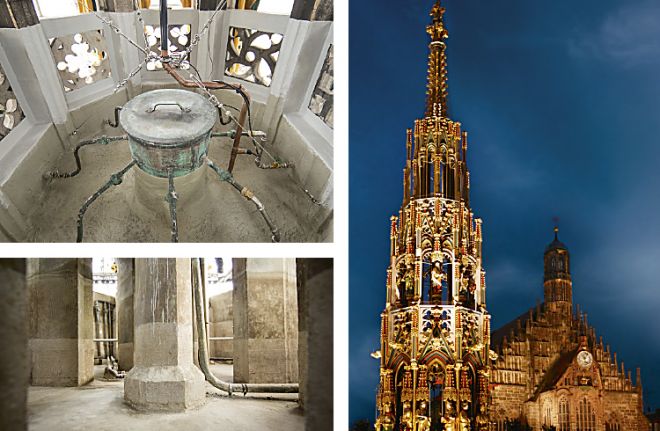 "Schöner Brunnen" Nuremberg
One of Nuremberg's landmarks, the "Schöne Brunnen" fountain on the main market square in the city centre had lost some of its former splendour. In addition to the rust on the surrounding fencing, a large amount of cracks and paint scaling were detected, requiring a refurbishment of the entire structure. Due to the saturated fountain layers, renewed
waterproofing of surfaces and details needed to form part of the repair. A high-quality waterproofing material that was easy to process was required to ensure that the system would function for a long time. The Hochbauamt Nuremberg building construction authority, the executing company Märkl GmbH, Fürth, and the Minden-based liquid plastics manufacturer Triflex cooperated to master this challenge. Due to the Triflex BWS system that was used, the fountain is now able to withstand weather influences for a long time and can once again live up to its name.
Refurbishment requirements
Durable protection against moisture
Secure waterproofing of various details
Weather-resistant, robust surface
adhesion on shell limestone, sandstone and sheet metal
Refurbishment without structural changes
Unobtrusive refurbishment for historical monuments
Refurbishment steps overview
Grinding the substrate and levelling any irregularities
Priming the surface using

Triflex Cryl Primer 287

Sealing junctions and complicated constructions with

Triflex ProDetail

Sealing filigree and difficult to access areas with

Triflex ProFibre

Sealing the surface with fleece-reinforced

Triflex ProTerra

Finishing the surface with

Triflex Cryl Finish 205
DESPITE THE CRAMPED SPACE CONDITIONS ON THE INDIVIDUAL WELL LEVELS, A LONG-TERM WATERPROOFING SYSTEM OVER A TOTAL AREA OF 150 M2 WAS CREATED. THE
COOPERATION OF THE PROJECT PARTICIPANTS RESULTED IN A SOLUTION THAT PERMANENTLY PROTECTS THIS NUREMBERG LANDMARK.
Michael Märkl, Märkl GmbH, Fürth