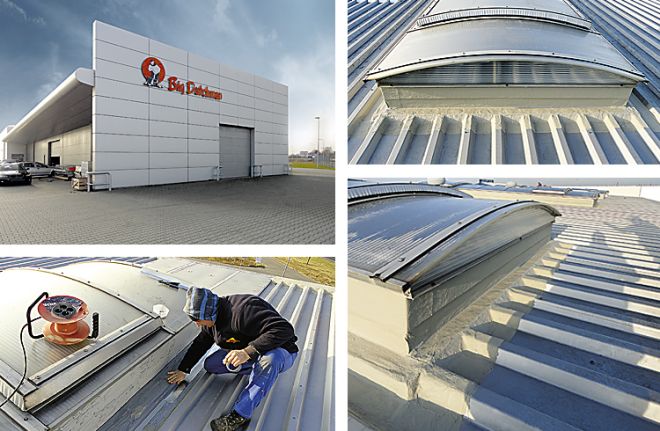 Big Dutchman, Tarnowo Podgórne (PL)
The aim of the "Big Dutchman" steel roof refurbishment was to reliably waterproof the leaky junctions of skylights and the water-permeable sheet metal overlaps at the edge of the roof. PHU Dekpo's waterproofing specialists carefully prepared the trapezoidal sheet metal roof for the waterproofing work. The refurbishment was carried out with Triflex ProDetail, the liquid PMMA-based waterproofing resin. This special solution prevents underflow on the roof and adhesion to metal. Previous
priming of the surface is not necessary. Since Triflex ProDetail can be processed at temperatures down to -5°C, carrying out the refurbishment work in December was not a problem. As the material is completely cured after only 45 minutes, the cold-applied PMMA resin means construction work can be carried out quickly and irrespective of the weather.
Refurbishment requirements
Long-term protection and extended refurbishment intervals
Adhesion to metal preventing underflow on the roof
Refurbishment work also in December
Fast, execution of construction work irrespective of the weather
Refurbishment steps overview
Rub the surface with

Triflex Cleaner

Priming with

Triflex Metal Primer

Waterproofing the junctions from the trapezoidal sheet metal roof to the skylights and the sheet metal overlaps at the roof edge with fleece-reinforced

Triflex ProDetail

Waterproofing with

Triflex Cryl Finish 205