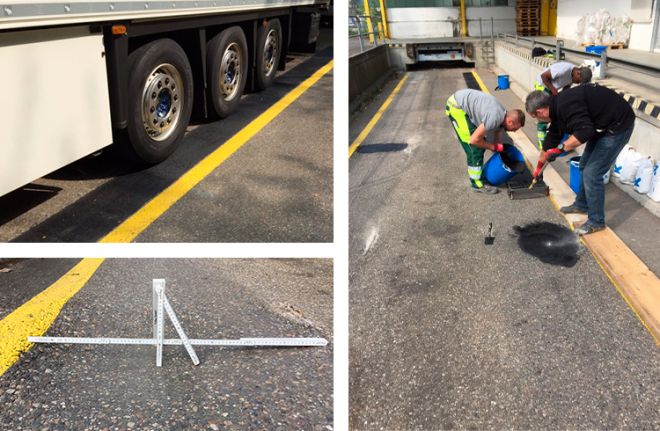 Planzer AG Kaiseraugust (CH) rain groove repair
Planzer AG, an international forwarding agent, has a warehouse in Kaiseraugst with various access ramps. The heavy load of the trucks had over the course of time created deep ruts, meaning that that the lifting platform no longer fitted and the grooves filled with ice in the winter, making access and driving conditions more difficult. The Triflex Asphalt Repro system is the perfect and economically viable solution for repairing this kind of road damage. The ruts were repaired permanently and
very cost-effectively within just 3 hours. The access ramp was refurbished without needing long blocking periods for the trucks.
Refurbishment requirements
Depths up to 8 cm
Quick installation
Refurbishment without complete demolition
Can also be applied in low temperatures
Adhesion to existing asphalt substrate
Durability
Refurbishment steps overview
Cleaning the surface with a broom, possibly with high pressure water.
Filling the strong depressions in advance with

Triflex Asphalt Repro

Then filling up all the ruts evenly using a screed box
If necessary, sprinkling with hard grain for a better grip
WE VALUE THE SAFETY IN APPLICATION, THE PROMPT DELIVERY SERVICE AND THE ON-SITE SUPPORT.
Benno Keller, responsible for civil engineering, Birchmeier Bau AG, Döttingen