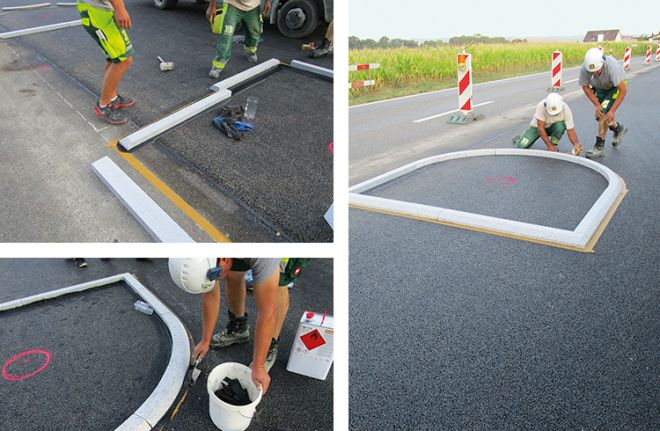 Installation of a traffic island in Döttingen (CH)
A traffic island was installed on Surbtalstrasse in Döttingen to calm traffic and allow safe pedestrian crossing. The company was looking for a solution that was quick and easy to implement. They quickly found that Triflex Asphalt Repro was the perfect solution. The existing asphalt pavement would normally have to be drilled for such an island so that the granite stones could then be buried. The Triflex system offered the possibility to "glue" the border stones onto the existing asphalt pavement without the need for time-consuming preparatory work and thus completing the traffic island in the shortest possible time.
Refurbishment requirements
Quick application
Stone setting without excavation work
Adhesion to existing asphalt pavement
Permanent bonding
Refurbishment steps overview
Removing the oil shimmer with

Triflex Cleaner

Applying 

Triflex Asphalt Repro

with a sledge
Placing granite stones on the surface
Cut away surplus

Triflex Asphalt Repro

after a few minutes
Simple mixing creates an individual consistency which can avoid additional levelling layers.
Domènique Chanton, foreman, Birchmeier AG