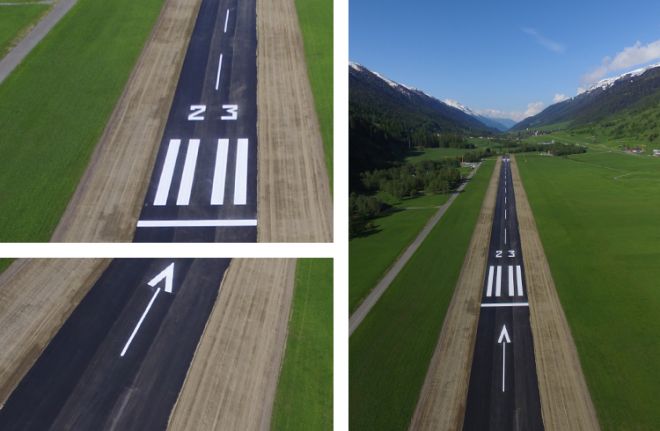 Münster VS (CH) airport marking
The former military Münster airfield in Goms is used during the summer months as a civil airfield for glider camps and for a limited number of motorised flights. In order to ensure long-term flight operations, the 815-metre-long and 18-metre-wide runway was refurbished in August 2015. Since this is a runway, the strips of runway needed a
solvent paint. The commissioned company opted for Preco Line 300. This Triflex marking system features impressive UV resistance, resilience and good workability. In addition, Preco Line 300 is applied directly to the asphalt and is fast-curing.
Refurbishment requirements
Quick installation
High mechanical strength
Fully bonded
Weather-resistant (UV, IR, etc.)
Short closure periods
Long-life
Refurbishment steps overview
Cleaning and removing the substrate
Pre-marking the area to be marked
Stirring the

Preco Line 300

Applying the line marking using a spraying machine
Spraying the marking paint for the numbers and bars with a hand pistol