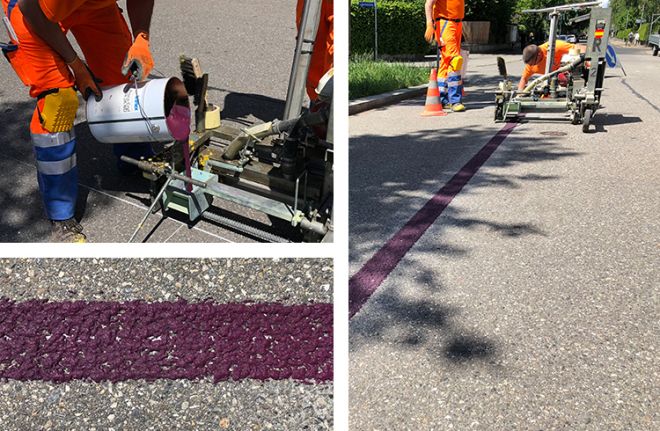 Berne (CH) bicycle parking
The largest bicycle rental system in Switzerland, "Velo Bern" by PubliBike AG, started work on the installation of 200 new rental stations in May 2018. In the final stage, the rental system will cover the entire city area with around 2,400 bicycles, which will be available at least every 300 metres. The colour for the markings needs to stand out clearly from the usual road markings to make the bicycle parking spaces in the public urban area unmistakable. In addition,
it must be UV-resistant, durable over the long term and dirt-repellent. The executing company opted for the proven Triflex marking system Preco Cryl Varioplastik 2K. The bike parking areas were marked within a very short time and could be unambiguously identified as such by local cyclists, commuters as well as tourists.
Refurbishment requirements
Fast curing and execution
High mechanical strength
Fully bonded
Weather-resistant (UV, IR, etc.)
Short closure periods
Long-life
Refurbishment steps overview
Cleaning and removing the substrate
Pre-marking the area to be marked
Stirring the

Preco Cryl Varioplastik 2K

in RAL shade 4007 purple violet
Mixing in powder catalyst
Applying the structure marking using a Plastomarker Junior hand machine