Triflex Marking Templates are used as marking aids for road markings, markings on parking spaces, in multi-storey and underground car parks, as well as on company and private premises. They make it easier to apply Triflex marking products.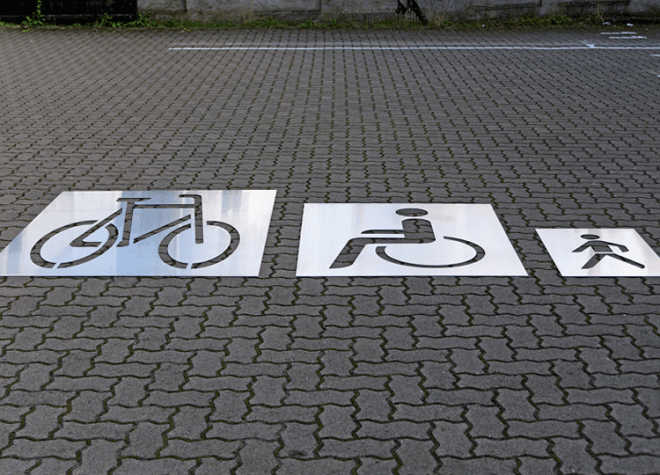 The reusable Triflex Marking Templates offer the following features:
3 mm thick, high-quality aluminium
With smooth, laser-cut edges
Suitable for Triflex thick-layer and thin-layer markings
Resistant to corrosion
True-to-scale motifs as per the
"Guidelines for marking roads" (RMS)
Quick and easy handling with practical handles (optional)
Individual motifs can be designed upon request
Direction arrows
Direction arrow templates are available in sets with a length of 5.00 m (internal template dimension). Different combinations of arrows can be created with the basic set and the ancillary sets
Pictograms
Pedestrian: 0.30 x 0.55 m
Cycle lane: 1.00 x 1.30 m
Wheelchair user: 0.70 x 1.00 m
Letters and numbers
Letter and number templates are available with a length of 4.00 m (internal template dimensions).
Individual motifs
Special dimensions and customised lettering or logos are also available upon request. Please ask your technical advisor to find out whether your proposed idea is technically feasible.